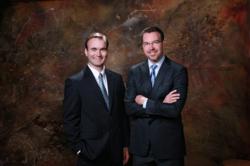 It is always an honor to be recognized for your skills.
Riverside, CA (PRWEB) July 22, 2011
Partners Keith A. Davidson and Stewart R. Albertson, of the Riverside law firm Albertson & Davidson, LLP, are once again nominated as top young lawyers in California, known as "Rising Stars", as published in Los Angeles Lawyer's Magazine, Super Lawyer Rising Star Section for 2011. This is the third year in a row that Mr. Davidson has made the list, and the second year for Mr. Albertson.
"It is always an honor to be recognized for your skills," says Davidson. "We work hard to develop our skills as lawyers and we take great pride in helping our clients and fighting hard for them."
Attorney Albertson shares that same sentiment. "I love a good fight," says Albertson. "And I enjoy helping people with their problems; being recognized as a Rising Star is great, but we have more important work to do--trying to obtain justice and fairness for our clients is my primary goal."
Before receiving news of their nomination as top young lawyers, both Davidson and Albertson were litigating a three week trial seeking to set aside a California trust amendment based on undue influence and lack of capacity. Both attorneys have paved the way to sterling reputations in the area of trust and will litigation, where they handle all aspects of trust and will contest, including trial. As trial lawyers, Albertson and Davidson have found their stride. "I tried my first case when I was only two years out of law school and I absolutely loved it," says Albertson. "From that time to now, trial work is all I want to do."
"Trial work is challenging, both emotionally and intellectually," says Davidson. "We have decided as a firm to take as many cases to trial as we can, both for experience and the better result we believe it brings to our clients."
Of course, not every case makes it to trial. Davidson estimates that approximately 97% of cases settle before trial begins. But of those cases that are tried in Court, attorneys Albertson and Davidson are standing ready to take on the challenge of trial—as Rising Stars.
# # #