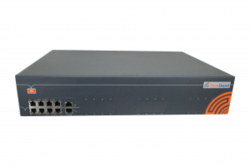 The TD Series VoIP phone system from Telcodepot provides an opportunity to resellers that is unparalleled in the market today.
Bay Shore, New York (PRWEB) July 21, 2011
TelcoDepot is a leading supplier of VoIP Phones and VoIP phone systems, hosted PBX services, business telephone system solutions, conference phone systems, business VoIP service, video surveillance equipment, VoIP gateways, telephony products and phone system support services to small businesses in the USA. Telco Depot has launched a Reseller Support Program for resellers of its TD1000/2000 VoIP Phone System, which has received critical acclaim as a cost-saving high-performance alternative VoIP solution for businesses.
The TD1000/2000 VoIP system has been hailed by some critics as the ultimate small business VoIP system, as it provides big system features (over 80 standard features) for a small system price tag. The new Telco Depot Reseller Support Program from TelcoDepot.com will provide resellers of the highly marketable VoIP system with access to a number of key benefits including wholesale pricing and discounts on the VoIP systems, free pre- and post-sales support, free pre-programming of the systems and commissions on the sale of Telco Depot VoIP services.
The TD series is an extraordinarily powerful yet extremely affordable VoIP phone system that finally brings all of the advanced features typically found only in large expensive corporate systems into a phone system with small business budgets in mind.
The powerful TD series utilizes the popular yet free Asterisk phone operating system, bypassing the need for expensive proprietary phone operating systems and allowing TelcoDepot to create savings for phone system buyers. With the TD Series, users are also not limited to any particular brand or model of desk phone to use, leaving them in a position to choose what's best for them and keeping them in control of their business and budget.
The TD Series consists of three cutting edge models: the TD 1000, TD 2000, and the TD 3000, designed for 2 to 1000 users. Each model comes ready to use with more than 80 advanced phone system features. In addition to an advanced, flexible, and extremely affordable VoIP phone system, the TD Series also comes with the legendary support of TelcoDepot, with each new system being delivered fully pre-programmed and ready to use.
Standard System Features available on the TD Series include: Analog Phone Support, Blacklists, Call Detail Record, Call Forward on Busy, Call Phone Integration, Call Pickup, Call Queuing, Call Recording, Call Screening, Caller ID, Conference Bridge, Dial by Name, Follow Me, Least Cost Routing, Music on Hold, Paging, Remote Phone, Speed Dial, Unified Messaging, Voicemail Blast, Voicemail to Email, Voicemail Webmail and Unlimited Auto Attendants, among others.
Other key advantages include the ability to add phone extensions anywhere on the fly, phone system management with a desktop monitoring application, voicemail to email support, and the fantastic option of using an iPhone or Android phone as a phone system extension.
The Telco Depot TD1000/2000 VoIP systems offer a true a competitive advantage for phone system resellers and installers. There is finally a system on par with some of the most advanced phone systems on the market today at a fraction of the price. Moreover, the pre- and post-sales support provided to resellers by Telcodepot is absolutely priceless. Let's also not forget each system from Telcodepot comes pre-programmed allowing private resellers and telecommunications solutions providers to offer a truly hassle free plug and play experience for their customers
Quoting a Telco Depot representative on the new Reseller Program for the Telco Depot TD1000/2000 VoIP Phone Systems;
"The TD Series VoIP phone system from Telcodepot provides an opportunity to resellers that is unparalleled in the market today. There simply is no alternative phone system on the market with the capabilities of the TD Series at a price that comes even close. The quality of the product is unquestionable as well, and we are excited to make this superior solution available to solutions providers that have long been seeking a phone system with the features that we've got at the price we have."
The TD Series VoIP systems support a wide variety of telephones from basic SIP to SIP Wireless and SIP Video providing an experience of freedom from the restrictions of proprietary phones. The TD Server also supports simple remote phone installation, providing a reliable infrastructure for remote offices and teleworkers, as well as additional flexibility to improve business communications. The included Desktop Monitoring Application allows you to see the status of all installed phones at a glance - be in control of your phone network and also enjoy amazing click-to-call and drag-and-drop call transfer features.
For more information on the Telco Depot Reseller Program or the TD1000/2000 VoIP phone systems, please visit Telco Depot online at TelcoDepot.com or call the Telco Depot customer help line at 1-800-390-1200.
About Telco Depot
Telco Depot is a leading supplier of quality business telephone systems, business VoIP service, VoIP phones, phone headset equipment, video surveillance systems, voice & data cabling solutions, conference phone solutions and Microsoft Response Point Systems. The company's top priority is to help its clients make informed decisions based on their specific small business phone system needs by providing experience and expertise and guiding them in selecting the best phone systems for their businesses. Telco Depot ensures that their phone systems are fully scalable, affordable priced, and provide the highest value for their clients.
# # #