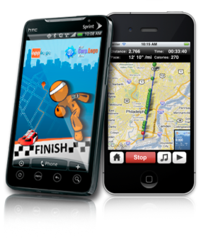 "Smartphones are becoming the computing device of preference. The capability of the phone, the ever increasing sophistication of the apps, and the way people are staying connected, it is truly changing our world. Applications like Independence Blue Cross
Chicago, IL (PRWEB) July 22, 2011
ObjectWave Corporation announces today On the Run a "White-Label" smartphone wellness app for Corporations and Associations who host annual marathons, races and walks. The white label wellness mobile app with real-time GPS tracking and itunes integration allows runners to be tracked "live" during a race or event, while listening to their favorite play list. Integration with SMS text messages, Facebook and Twitter allow friends, family, and other supporters to watch the race progress as it happens.
Sam Cinquegrani, CEO, ObjectWave Corporation states: "Smartphones are becoming the computing device of preference. The capability of the phone, the ever increasing sophistication of the apps, and the way people are staying connected, it is truly changing our world. Applications like Independence Blue Cross' Healthy Steps, is an example of how a device like a smartphone can assist people to stay healthy, be motivated to exercise, and stay connected to their families and friends."
On the Run was first designed and developed for Independence Blue Cross's recently launched Healthy Steps Application. In May, 9,000 Independence Blue Cross members participating in the 32nd Annual 2011 Blue Cross Broad Street Run were offered the initial release of Healthy Steps.
The IBX Healthy Steps app is part of IBX Healthy Steps, a program that suggests incremental, very doable changes that can make a big difference in a person's overall health. The Healthy Steps Pedometer app offers features for those at every workout level – from neighborhood walkers to beginning runners, to veteran marathon participants.
"We are working hard to provide tools, products and services that will enhance our members' lives," said John Janney, senior vice president of Marketing Services at Independence Blue Cross. "We are proud to introduce our first mobile app, the IBX Healthy Steps Pedometer, an easy-to-use, innovative workout tool. There are mobile apps for almost everything consumers do – health care and wellness are no exception since they are key elements to enjoying life."
The IBX Healthy Steps app is customizable by gender, height, and weight to precisely calculate calories burned with each workout, and:

track the length, speed, and distance of a walk, jog, or run.
follow the user's location using a GPS-enabled map.
save results of workouts to view improvement over time.
share workout status with friends using integrated Facebook, Twitter, and text messaging.
provide BMI, daily hydration needs, personal health stats, and a variety of health calculators.
The On the Run white-label personal wellness and marathon application has been built for both i-Phone and Android platforms. The application is delivered complete, robust, and with many options that are highly customizable. ObjectWave's "Customization" options to the white-label application can give your organization the ability to make "Your" Wellness Pedometer application and spectator application focused on your upcoming marathon or other sports related annual events.
Providing Solutions for the Enterprise in Motion ObjectWave - On the Go is designed to help enterprises bring their mobile strategies to market rapidly through mobile application development, consulting, and management services. ObjectWave - On the Go helps enterprises in many areas including: field integration to corporate databases, field data collection, sales force automation, mobile ordering, customer relationship management, personnel tracking/safety global information systems (GPS) and cross-platform mobile solutions.
About ObjectWave Corporation
Over 20 years strong, ObjectWave Corporation, headquartered in Chicago, IL and with nearshoring operations in Mexico and San Diego, is one of the top leading providers of mission critical enterprise level systems. The majority of ObjectWave's clients are Fortune 1000 enterprises seeking custom solutions for client-server, mobile-based, web-based and business-to-business e-commerce applications that can only be successfully realized by using a disciplined approach to software construction. Our approach delivers solutions that meet and exceed customer requirements for software flexibility, maintainability, extensibility and reusability. ObjectWave works with its clients to build powerful, robust, scalable enterprise-class solutions to solve complex business challenges. To learn more visit http://www.objectwave.com
###