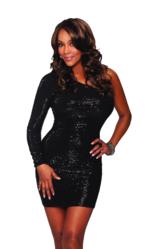 "A great figure or physique is nice, but it's self-confidence that makes someone really sexy." ~ Vivica A. Fox
New York, NY (PRWEB) July 21, 2011
Vivica A. Fox knows what's in a name. Spending decades in the spotlight gaining recognition as an A-list actor and most recently a producer of stage plays and screen, both big and small.
Fox is adding yet another achievement to her brand building list, that of a flourishing entrepreneur. Today after only 2-years, the Vivica A. Fox Hair Collection is a multimillion-dollar company, carrying products like stylish, high quality, affordable wigs and hair extensions. Vivica talks to IFV News about the importance of branding no matter who you are, Hollywood superstar or an entrepreneur with a dream, a plan and guts.
IFV News host Marcella Palmer speaks with Fox from Alycia Kaback's 1st Annual NYC Women's Empowerment Summit. The conference is designed for all women, to meet and share best practices, stories of success, and experiences both personal and professional.
About In Full View News (IFV News)
The IFV News Team is focused on bringing its viewers relevant business and financial information in an enjoyable comprehensive web based business news show format. A new webreport airs every Saturday at ifvnews.com. Viewers are encouraged to return daily for articles from trusted sources around the globe monitoring mid-cap, small-cap and micro-cap companies, as well as other medium/small businesses and entrepreneurs (SME). Featured news sources are Forbes, Business Week, BBC News, BusinessWire, PR Newswire, CNET, BusinessGreen and TechCrunch as well as other U.S. and International publications. Viewers are invited to contact IFV News regarding topics of interest. IFV News is a product of M.INK Productions® LLC, http://www.minkproductions.tv.
About Vivica A. Fox
Vivica A. Fox began her TV acting career on daytime soap Days of Our Lives and has appeared on many popular shows, such as the NBC series Out All Night, HBO's Curb Your Enthusiasm, and ABC's Dancing With The Stars. Her big break in films occurred when she stared in the blockbuster hit, Independence Day. Her other big screen credits include Soul Food, Why do Fools Fall in Love, Two Can Play That Game and Kill Bill Vols 1 & 2. She has produced and starred in Lifetime's 1-800-Missing, VH1's Glam God; films like the sequel to Two Can Play that Game, and stage plays Whatever She Wants and Cheaper to Keep Her. Fox has received many prestigious awards, including The Lady of Soul Lena Horne Career Achievement Award, NAACP Image Award, NAACP Spirit Award, and voted one of People Magazine's 50 Most Beautiful People.
The Vivica A. Fox Hair Collection founded in 2009 and launched Spring 2010, provides premium quality and high-style wigs and extensions to consumers.
###