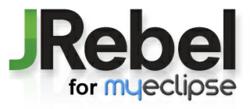 ZeroTurnaround is proud to have prevented over 35 million redeploys for tens of thousands of JRebel users worldwide.
Tartu, Estonia (PRWEB) July 26, 2011
ZeroTurnaround, winner of the 2011 "Most Innovative Java Technology" JAX Innovation Award for JRebel, and Genuitec, a founding member of the Eclipse Foundation, are proud to announce the release of "JRebel for MyEclipse."
JRebel (formerly JavaRebel) is a specialized plug-in that enables developers to see the effects of code changes during development without the need to build or redeploy their application. According to ZeroTurnaround's annual Java EE Productivity Report 2011, this process consumes an average of 10.5 minutes of every coding hour for the median Java EE developer (over 5 full weeks per year). See that report here: http://www.zeroturnaround.com/java-ee-productivity-report-2011/
"JRebel for MyEclipse is an easy-to-setup plug-in that brings JRebel functionality and specialized integration to Genuitec's MyEclipse IDE," commented Jevgeni Kabanov, ZeroTurnaround CTO and co-founder.
This special JRebel plug-in, which has a free 30-day evaluation period, provides a unique configuration wizard that lets users enable JRebel integration with MyEclipse and the application server of choice, such as IBM WebSphere, Oracle WebLogic, Apache Tomcat, JBoss Application Server, GlassFish, Jetty and others.
"We're proud to have prevented over 35 million redeploys for tens of thousands of Java developers worldwide," remarked David Booth, ZeroTurnaround CEO. "It's a great development to have the industry's most-used 'redeploy killer' join forces with Genuitec to eliminate restarts and redeploys in Java for a growing population of MyEclipse fans."
Developers worldwide choose MyEclipse because it is the most affordable and comprehensive J2EE IDE and Web development tool suite for the Eclipse open-source platform. MyEclipse is the Eclipse plug-in based solution for all developer needs with support for UML, Ajax, Web, Web Services, J2EE, JSP, XML, HTML 5, Struts, JSF, Java Persistence, EJB, extended database support, profiling and application server integration.
"It's not often we see new technologies that live up to their marketing-speak, though with JRebel we see a tremendous value-add for our customers," said Todd Williams, vice president of technology for Genuitec. "Any technology that increases developer productivity fits into the MyEclipse development model perfectly, as is seen with the impressive ability of JRebel to save measurable time on application redeploys."
Sign up for the August 4th webinar to get a first-hand look at the JRebel and MyEclipse integration: https://www3.gotomeeting.com/register/614265822
JRebel for MyEclipse is sold as an annual subscription and can be purchased at a special introductory price of US $165, which includes full support and upgrades to new versions several times per year at no additional cost. There are free licenses available for Open Source and Scala projects.
Try free for 30-days, JRebel for MyEclipse: http://www.zeroturnaround.com/jrebel/myeclipse
About ZeroTurnaround
ZeroTurnaround makes Java more productive for both development and production teams with award-winning Rebellion technology. JRebel and LiveRebel integrate directly into the JVMs, application servers and development tools of the world's leading financial, web application and technology firms, including the Bank of America, American Airlines, Lufthansa, LinkedIn, HP, Siemens, Logica, Kayak, Oracle, IBM, and more. ZeroTurnaround is proud to support the Eclipse Foundation as a solutions member, and was founded Estonia, in 2007. Join the Rebellion.
About Genuitec
Genuitec, LLC, is an Eclipse-based company offering innovative Java and J2EE development tools. Genuitec offers training and expert consulting and development services for the Eclipse SDK and Rich Client Platforms. An original sponsor of Eclipse Plug-in Central, Genuitec joined the Eclipse Foundation early in 2003 and is currently supporting Eclipse as a strategic member on the Foundation's board of directors. Genuitec LLC was founded in 1997 and is headquartered in Flower Mound, Texas.
Genuitec and MyEclipse are trademarks of Genuitec, LLC. All other brand or product names may be trademarks or registered trademarks of their respective companies and should be treated as such. JRE, Java and all Java-based marks are trademarks or registered trademarks of Sun Microsystems, Inc., and/or Oracle, Inc., in the United States and other countries.
###