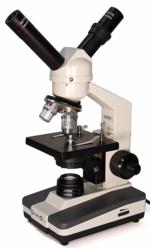 Roanoke, VA (PRWEB) July 26, 2011
Microscope.com, a leading provider of microscopes to schools and universities, is pleased to announce a special, back-to-school online savings event for their popular Omano OMTM85 & 85L teaching microscopes. For a limited time, customers can save up to 33% off the regular price of these educational microscopes and 33% off especially packaged microscopes and accessories. Special Offer pricing starts at $199.
The entry-level OMTM85 features two eyepiece tubes (oculars) that allow the teacher and student to view specimens at the same time, a tremendous asset in the teaching environment. Unlike competing teaching microscopes, the Omano OMTM85 offers ergonomic viewing for both teacher and student since both oculars are set at comfortable 45° angles.
Made of rugged metal alloy and the finest Omano optical components, the OMTM85 brings the microscopic world to life with three achromatic objectives (4x, 10x, 40xS), and up to 1000x magnification. The OMTM85L adds rechargeable LED lighting. As a result, it is fully portable and can be used in the field. Additional features include a plain stage, coaxial coarse/fine lighting for more convenient focusing and variable halogen illumination.
The microscope/accessory packages includes a choice of five prepared slides inspired by the Natural History Museum – Beastly Bits, Blood & Gore or Neat Eats - plus the book, "The World Of The Microscope", an ideal introduction to microscopy, packed with 48 colorful pages of projects, experiments and activities for kids of all ages.
According to Charles Crookenden, President and owner of Microscope.com, "These particular microscopes have been popular among home schoolers and schools for our entire 14 year history. The twin 45° oculars make a big difference in comfort when using them and we are delighted to offer them in this special promotion."
Microscope.com is an online retailer of microscopes for everyday use by industry, schools, businesses and microscopy enthusiasts worldwide. Located in southwestern Virginia, they serve customers around the world and are the proud recipient of Top Ten Reviews "Gold Awards" for both 2009 & 2010.
# # #