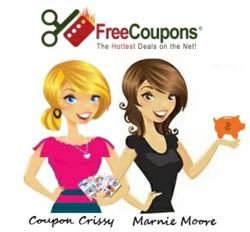 Avila Beach, CA (PRWEB) July 27, 2011
Freecoupons.com, a leading website for free coupons, grocery coupons and shopping advice, has added more coupon feeds for the optimum amount of savings, a freebies section to give readers all the best freebies the web has to offer and more stores to the coupon matchup section, making savings a breeze in any area. Freecoupons.com is also happy to announce their video section that makes money saving simple and fun!
Freecoupons.com is proud to have added Smartsource, Red Plum and Cellfire to an already impressive list of coupons. This gives users access to a wide range of choices for couponing, making freecoupons.com a one stop shop for savings and saving advice.
Freebies is the new featured section of the site. Freecoupons.com is excited to provide users with the opportunities to try the best for free. This section gives users free samples from cookies to face cream. Freecoupons.com also serves up free shipping, restaurant freebies and retail freebies. Not only do the users get great freebies but Freecoupons.com also calls out all of the best contests on the web. This way they can enter to win great prizes like money and houses.
The matchup section matches up the stores weekly deals to the current rewards at a given store and to coupons giving the deepest possible discount. Matchups are done for many popular supermarkets and drug stores across the nation on a weekly basis. This way users have the means to easily plan the best money saving shopping trip.
If you would like to know how to get the most savings from freecoupons.com check out their video tutorial. Freecoupons.com tutorials are built to help readers learn the ins and outs of savings in a snap. They highlights all of the top sections of the site so that the readers get the most out of their freecoupons.com experience.
Freecoupons.com takes the hottest deals of the web and the latest coupon news and shoots it straight out to the public in the blog section.
Freecoupons.com encourages users to take great pride in their money saving successes by posting their latest shopping score in the blog: It worked for me. Current users have saved up to 82% on their shopping bill by using the coupons and resources from freecoupons.com. Freecoupons.com likes it when users brag about their savings!
Coupon experts Coupon Crissy and Marnie Moore provide money saving tips and answer any questions so that users have every resource they will need to save big. Coupon Crissy serves up the needs of the users on a platter so they can one stop shop for savings. She is a newly wed with a need for savings who understands the tough obstacles in this economy and makes them easy to overcome. Marnie Moore is a money saving mom who rocks the coupon world with years of conquering her budget. This dynamic team makes saving money easy, achievable and fun. Connect with them on Facebook and Twitter.
About FreeCoupons.com:
FreeCoupons.com is a coupon site that offers the hottest deals on the net with thousands of printable grocery coupons and hot deals for top brands.
# # #