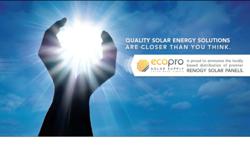 Together We Make Solar Simple For Contractors in Louisiana.
Baton Rouge, LA (PRWEB) July 29, 2011
Renogy LLC is proud to announce its new partnership with a Louisiana based company ECOPRO Solar Supply. ECOPRO LLC is an experienced and knowledgeable distributor specialized in energy efficient products. From now on, Renogy's panels will be available as part of a complete contractor's package that ECOPRO provides.
By combining the power of top-rated energy efficient Renogy panels and the proven advantages of Enphase Micro Invertors, ECOPRO will make solar power systems more accessible for general contractors and electricians in Louisiana area.
Beau Dinglers with ECOPRO states "Louisiana has some of the most favorable tax incentives in the country for solar. Many contractors want to offer solar but are not familiar with the components. We make solar simple for them by providing complete plug-and-play systems that are easy to install."
"We decided to partner with ECOPRO because Louisiana is a very important market for Renogy's expansion and growth," said by Yi Li, president of Renogy. "Its location along the Gulf Coast and Mississippi River, plus the future Panama Canal opening will together make Louisiana ideal for warehousing and transportation. Besides, we believe that with ECOPRO's resources and great relationships with local installers, the two companies can work together to provide readily access to high PTC rating Renogy panels, which maintain a great performance even during humid rain season."
For a limited time, ECOPRO will be providing special offers on the Complete Contractor Packages, which includes an outstanding 25-year manufacturer's warranty in addition to flexible local distribution. Interested customers can visit their website at http://www.ecoprosolar.com or call 225-579-8099 for more information.
About Renogy:
Renogy LLC is a global player that produces from ingots to modules, insuring reduced cost at each step in the production chain. This vertical integration enables a superior quality control process. Besides, Renogy also offers top-rated product efficiency as high as 15.3%. Renogy has warehouses in Louisianan, California, and New York in the United States.
About ECOPRO:
ECOPRO LLC is an experienced Louisiana based distributor specializing in complete solar systems. ECOPRO has built its reputation upon guaranteed quality, high efficiency, strong technical support and excellent customer service, all while offering low prices to contractors.
###