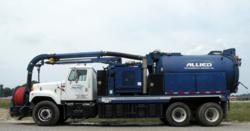 The unit does the work of two pieces of equipment, which equates to a cost savings for the customer
Lima, Ohio (PRWEB) July 28, 2011
To meet increasing customer demand and the evolving needs of industry, Allied Environmental Services, Inc. (Allied) of Lima, Ohio recently announced that it has expanded its fleet of specialized equipment through acquisition of a Vac-Con V312LHA hydro-excavation unit.
The Vac-Con V312LHA is a multi-functional vacuum truck equipped with an onboard water supply system and remote controlled articulating boom, which provides high-efficiency hydro-excavating capability. Hydro-excavating, a process of removing soil/debris using pressurized water and power vacuum, is commonly used to expose buried utilities and other sensitive equipment where use of backhoes is unsafe or impractical.
According to Dan Clemens, Allied Operations Manager, combining the water storage/pressurization and vacuum processes on one truck significantly improves hydro-excavating performance and efficiency. "The combination of vac process and pressure-wash units does the work of two pieces of equipment, which equates to a cost savings for the customer", stated Clemens. Clemens continued, "The 1,300 gallons of onboard water storage and the 12 cubic-yard debris tank also allows us to work on-site for longer time periods, which increases productivity."
The Vac-Con unit is also equipped with a high-volume, 500-foot sewer rodder. The Vac-Con rodder operates at over double the volume of the company's standard rodding units. "Our customers have already witnessed the difference between our 30 GPM trailer units and the 83 GPM Vac-Con rodder unit. It is a very versatile and efficient piece of equipment", stated Clemens.
Another recent addition to the Allied fleet is a 24-foot box truck equipped with a lift-gate. According to Clemens, the new box truck was added in response to a significant growth in Allied's hazardous waste collection/transport services. "The demand for our hazardous materials management services dictated that we add another large capacity vehicle for transporting drums and packed materials. The added capacity means we can haul more material per load, which translates to reduced transportation costs for our customers", Clemens said.
About Allied Environmental Services, Inc.
Allied Environmental Services, Inc. (Allied) is an environmental consulting and contracting firm with offices in Lima, Ohio and Toledo, Ohio. For over 24 years, Allied has provided professional environmental management solutions to private industry, property owners, lenders, municipalities, schools, and hospitals. Allied specializes in hazardous materials management, emergency spill response, industrial cleaning (vac-truck and hydroblasting services), asbestos abatement, underground storage tank closure, Phase I and II ESA, and air quality testing.
###