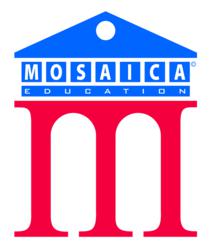 This approach inspires lifelong learning.
Youngstown, OH (PRWEB) July 30, 2011
The global education company Mosaica Education Inc., will open the STEAM Academy of Youngstown on August 8th at 810 Oak Street, Youngstown, OH 44506. The school's S.T.E.A.M. curriculum will focus on Science, Technology, Engineering, Arts and Mathematics and will join Youngstown Academy of Excellence as the second Mosaica school in the area to host Kindergarten through 8th grade classrooms.
Melvin Brown, Regional vice president for Mosaica's Ohio schools adds, "With constraining budgets, we are seeing schools reduce the amount of time focused on fundamental courses required for admission into high quality colleges across the country. Our curriculum is designed to focus on the five subject areas that will create a well-rounded, well-educated student in today's global economy."
Mosaica has been a leader of educational reform internationally since 1997 with over 90 elementary, middle and high school programs around the world. It has educated over 45,000 students to date. According to John Grahovac, the newly appointed Chief Administrative Officer of STEAM Academy of Youngstown and a veteran administrator of several Ohio public school systems, Mosaica uses its hands-on proprietary Paragon® curriculum to teach students the connection between the classics and contemporary society. "This approach inspires lifelong learning," he says.
For more information please visit Mosaica's Ohio Charter Schools.
###