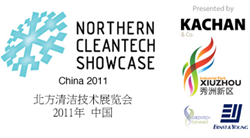 The best Canadian energy innovations will be presented to top-tier Chinese state owned enterprises, private corporations, western and local investors and government officials
Vancouver, BC (PRWEB) July 29, 2011
Canadian clean technology companies seeking to expand their international business have until the end of next week to apply to join a trade mission to China this September.
Applications are about to close for Northern Cleantech Showcase China 2011, which will introduce successful applicants to leading Chinese industrialists and large corporations, joint venture partners, potential licensors and investors in events in Beijing and Shanghai, September 20th and 22nd.
The Northern Cleantech Showcase will present up to 10 of the most promising Canadian clean technology companies specializing in energy products or services.
Northern Cleantech Showcase China 2011 is produced by cleantech research and advisory company Kachan & Co., in partnership with Ernst & Young, the Jiaxing Xiuzhou Industrial Park near Shanghai, the non-profit Greentech Exchange, and other partners.
"The best Canadian energy innovations will be presented to top-tier Chinese state owned enterprises, private corporations, western and local investors and government officials," said Dallas Kachan, managing partner of Kachan & Co., the event organizer. "Companies only need to submit a quick 10-minute form to apply."
To be considered, Canadian cleantech companies must fill out an online form at http://www.northerncleantechshowcase.com and agree to the terms and conditions of application. Applications must be received by Friday, August 5th, 23:59p Pacific. An independent selection committee of event partners and prominent Canadian venture capital firms will choose up to 10 presenting companies using criteria such as innovation and differentiation, market opportunity, status of product commercialization and ability to execute.
Companies chosen for the showcase will also receive a one-day workshop and pitch training session in Toronto or Vancouver with Kachan and partners in advance of the event.
There is no charge to apply, nor any fees to participate if chosen. Presenting companies will be required to pay their own travel and accommodation expenses.
About the Northern Cleantech Showcase
The Northern Cleantech Showcase event series introduces leading Canadian clean technology companies to selected corporations, qualified institutional investors and others. It is produced by cleantech consulting and research company Kachan & Co. and is supported by partners. For more information, visit http://www.northerncleantechshowcase.com .
About Kachan & Co.
Kachan & Co. is a cleantech research and advisory firm with offices in Vancouver, Toronto and San Francisco. The company publishes research on emerging clean technology companies and trends, offers consulting services to large corporations and cleantech vendors, and connects cleantech companies with investors through its Hello Cleantech™ and Northern Cleantech Showcase™ programs. Kachan staff has been covering, publishing about and helping propel clean technology since 2006. For more information, visit http://www.kachan.com.
Dallas Kachan, Kachan & Co.
+1-415-390-2080 x5 office
dallas(at)kachan(dot)com