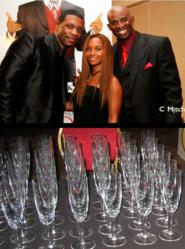 Signazon was one of the easiest and most-efficient in the designing and production aspects from the artwork to the final product.
Atlanta, GA (PRWEB) August 09, 2011
Deion Sanders has become the very first Atlanta Falcon to be inducted into the Pro Football Hall of Fame. Surrounded by his family, friends, and celebrities such as Chili from TLC and the legendary Keith Sweat, Deion celebrated his induction in high style by hosting the Black & Red Celebratory Gala at 200 Peachtree. Event sponsors included Grey Goose vodka, Sean John, Gigaré Collection, Kilwin's Chocolates, ASEA Water, and Signazon.com. Proceeds from the event benefited Sanders' non-profit organization, The PrimeTime Association, a mentoring program for youth.
Arranging this event was Atlanta's own Foxx Entertainment Group, Inc. Foxx President and CEO Tee Foxx knew that this VIP event required nothing less than the best, and she wanted to make it unique and memorable for Deion and the attendees. Guests were given a variety of "swag," ranging from bottles of Grey Goose vodka to Gigaré ties and Sean John sunglasses. In addition, having acquired 100 hand-blown glass champagne flutes, Foxx wanted to highlight Sanders' legendary achievement during the event.
Foxx contacted the Signazon.com, a national online sign printing company headquartered in Dallas, TX, to inquire about producing her order. Signazon.com specializes in clear decals and white-ink printing, both of which were used for this job. "When my team brought the sponsorship to me, I knew we needed to get involved," says Nicole Chilton, Marketing Manager at Signazon.com, "We're based in Dallas, so we're loyal to Deion, a former Cowboy, plus we have the capability for white ink printing on a clear material, which is exactly what Tee needed and is something a lot of printers can't do." Foxx worked with Signazon's Corporate Event Management team to coordinate the event. They agreed that clear static clings would be best choice for the champagne flutes. With a design that included a profile of Sanders in uniform and his legendary number "21," the clings gave a unique and custom touch to the glasses and were easy to remove after the event since they have no adhesive.
"Signazon was one of the easiest and most-efficient in the designing and production aspects from the artwork to the final product. In need of a quick, custom turnaround for a high-profile, celebrity-driven, once-in-a-lifetime event and Signazon came through with flying colors!" said Tee Foxx.
About Signazon.com
11969 Plano Rd, Ste 190
Dallas, TX 75243
1-800-518-1217
PR Contact: Jason.p(at)signazon(dot)com
Based in Dallas, TX and Boston, MA, Signazon.com is the top online business sign company. Different from a local sign shop, we have been deploying the very latest in e-commerce technologies, free template-based graphic design, and high-quality, full-color printing at cheap prices for car signs, vinyl banners, vinyl decals, window signs, yard signs, oversized checks, canvas prints, offset printing and sign accessories since 2005.
Foxx Entertainment Group was founded in 1998 and is a full-service sports and entertainment marketing agency that specializes in event marketing, promotions, production and management as well as the designing of strategic branding and publicity programs.
Prime Time Association is a 501c3 nonprofit organization founded by Deion and Pilar Sanders. Deion has been held in such high regards and Congressionally Recognized for his hands on approach to positively influence the lives of countless youths and adults. He is now acting on a long time dream of reaching, touching and teaching our youth and men through organized sports and training.
###