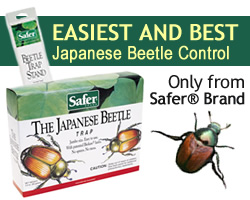 ...I placed them at 10:30 a.m. … In just over two hours, two of the traps were full and the third 3/4 full. …
Lititz, PA (PRWEB) August 15, 2011
The controlled-release food and sex attractants lure Japanese beetles into the trap, disrupting their mating cycles and causing their population to quickly dwindle down to nothing. The all-natural trap uses no pesticides or other harmful substances, ensuring people, pets and plants are completely safe.
"The Japanese beetle is a significant threat to yards and gardens in a large section of the United States," said Justin Emig, Safer® Brand category development associate. "Although these insects have no natural predators in this region of the world, the Safer Brand Japanese Beetle Trap effectively controls them just as a predator would."
The trap is simple to assemble. An included 48-inch galvanized steel pole hangs the trap at the perfect height to attract and catch Japanese beetles. To protect plants from defoliation by the voracious beetles, Safer Brand recommends placing the trap upwind and at least ten feet away from plantings. All necessary parts and accessories, including the attractant and catch bags, are included with the Japanese Beetle Trap.
"Over the last couple years, the Japanese beetles have been increasing exponentially. After reading … that traps of this type do not work well, I had not tried any," wrote one Safer Brand customer. "Yesterday I broke down and bought three. I placed them at 10:30 a.m. … In just over two hours, two of the traps were full and the third 3/4 full. … [The Safer Brand Japanese Beetle Trap] is obviously going to give my fruit trees and berries a chance to produce, and has already vastly reduced the breeding population."
Gardeners can learn timely information about Japanese beetles and other pests at the Safer Brand Facebook page. Facebook users nationwide who "Like" the page can exchange ideas and success stories, obtain gardening tips and view how-to videos to help keep their gardens, plants and lawns healthy and bug-free all year long.
The complete Safer Brand Japanese Beetle Trap Kit is available from the company's Web site for just $10.99 and is eligible for Safer® Brand's free shipping offer!
For more information, please visit:
• Japanese Beetle Trap Kit
• About Japanese Beetles
• Follow us on Facebook
About Safer Brand
We are Safer® brand, Concern®, and Victor Poison-Free® - three strong brands recognized as world leaders in the organic pest control, organic plant disease control and organic gardening categories! We offer the broadest and deepest selection of quality organic bug control and plant disease control products at competitive prices. Our organic gardening products are targeted to meet the varying needs of you, the consumer! So, whether you are an experienced gardener or novice, there is a product to fit each and every situation.
Safer Brand, has been trusted by consumers since 1976 and is a division of the Woodstream Corporation located in Pennsylvania.
About Woodstream Corp:
Woodstream Corporation is a long-standing, privately held company and a leading manufacturer and marketer of quality-branded wild bird feeders, rodent control products, caring control products for pets and wildlife and organic solutions for lawns & gardens.
###