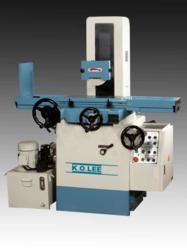 (PRWEB) August 03, 2011
LeBlond Ltd., a supplier of OEM service parts and LeBlond lathes,acquired K.O. Lee in 2008 and has developed a high precision surface grinder called the KOL-820/2A. The machine uses a grinding wheel that can be fed downward in very small increments into a work piece that moves to the left and right. It's part of a great tradition that K.O. Lee has been known for since 1887.
The KOL-820/2A has a 8" X 20" table with 20 inch hydraulic longitudinal feed and a 8.26 inch cross feed that is electric motor driven. The table can be operated manually for extra flexibility.
The precision grinding spindle is comprised of four (4) preloaded, class 9, super precision, angular contact ball bearings for heavy grinding. The spindle has a V-3 motor and provides run-out accuracy of less than 0.002mm or .00008 inches. It is greased and totally free of maintenance.
The slidway "Full Support System" is uniquely designed and maintains accuracy during full length of travel and table reversing. Both slidway's (longitudinal and cross feed) are hand scraped and laminated with Turcite-B ensuring smooth travel and low wear.
All buttons and switches are conveniently located on the "Control Panel" for smooth operation.
Both movements of the table feeds have an adjustable reversing capability and self-locks to prevent manual operation in "power-feed" mode.
The main components of the machine are made of high quality Mechanite cast iron which ensures rigid stability. The Precision Surface Grinder comes with an auto lubrication system and a package of ten standard accessories.
For additional information call LeBlond at (888) 532-5663 or visit our website at leblondusa.com.
Company Information
LeBlond is the only company in the world with OEM replacement parts for LeBlond and
Standard Modern lathes, KO Lee grinders, Johnson Presses and Deka Drills. LeBlond sells new machines, rebuilds equipment and offers "world class" accessories/tooling items. Whether your manufacturing needs require genuine LeBlond parts or quality industrial products, you can "one stop" shop at LeBlond.
###