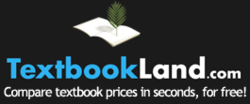 Students can see a savings of up to $200 for a single semester of textbooks.
Jupiter, FL (PRWEB) August 22, 2011
College textbooks are extremely costly and finding cheap ones can be a real pain. TextBookLand offers an extremely reliable price comparison service that let's you choose the cheapest route available when it comes to buying textbooks. Their textbook search engine is linked to hundreds of online stores and instantly delivers you the cheapest available prices; say goodbye to overpriced campus bookstores!
This easy to use search engine is completely free for anyone to start comparing textbook prices. Comparing prices on a specific textbook takes only seconds and gives you a complete breakdown of how much the book costs at a wide variety of online textbook stores. New this semester is the addition of textbook rental prices as well as new & used textbooks. What's helpful for this is while most students think renting textbooks is cheaper, many will find they can actually purchase a used copy for less.
The goal of TexbookLand seems to be quite simple. Owner David Batchelor wants to "offer students the cheapest option available when it comes to buying textbooks." With its ease of use, zero cost and network of online stores, this website really does save college students time and money.
About TextbookLand.com:
TextbookLand has been finding cheap textbooks for college students since 1999. With over one million searches completed, they are one of the oldest, most reliable and efficient textbook price comparison services out there. Search for the cheapest price available to buy textbooks and search for the highest price available when you go to sell your old books. For more information on how to get started using their free textbook search engine, please visit http://www.textbookland.com
###