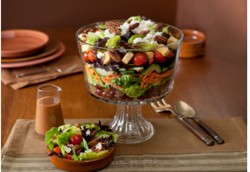 The Balancing Act gives us an audience with key consumers to share our lettuce expertise, our farming story and our Salad Smarts cause. - Diana McClean Director of Marketing
Salinas, CA (PRWEB) August 09, 2011
Tanimura & Antle has partnered with The Balancing Act on Lifetime Television in a segment titled "From the Earth to the Plate Creating the Perfect Salad". Viewers will experience an Artisan Lettuce harvest in Salinas, CA as well as learn some new recipes and simple tips for using lettuce in their meals from Tanimura & Antle CEO and family member, Rick Antle.
The airing of this segment coincides with the launch of Tanimura & Antle new Back to School promotion, Salad Smarts, which will raise awareness of organizations promoting improved nutrition for school children. " The Balancing Act gives us an audience with key consumers to share our lettuce expertise, our farming story and our Salad Smarts cause."
Company CEO, Rick Antle, is featured on the segment where he shares a few quick steps for creating the perfect salad. "Preparing a delicious salad is only a matter of looking in the fridge or pantry," comments Rick. "Use what you have on hand starting with fresh lettuce and it's sure to be a winner."
This segment is scheduled to air August 18th and September 15th .
About the Balancing Act
The Balancing Act is America's only one-hour morning show that's about women, for women, and trusted by women. Celebrating life and all there is to accomplish, The Balancing Act inspires and empowers with entertaining and educational shows–which
helps place women in the best position to achieve success in every area of their lives.The Balancing Act–– airs two shows on Lifetime Television back to back Monday through Friday 7:00am – 8:00am. (ET/PT) For more information, visit http://www.TheBalancingAct.com.
About Tanimura & Antle
Tanimura & Antle is an industry leader whose commitment to premium quality produce has remained strong since its formation in 1982. The Tanimura & Antle families combined more than 50 years of experience and knowledge to establish a produce company unrivaled in its quality products, innovation and dedication to growers, customers, consumers and employees. Today, as one of the largest independent lettuce growers in the United States, Tanimura & Antle farms more than 30,000 acres of rich, fertile farmland and ships a full line of premium fresh produce products throughout North America, Europe and Asia. For more information, please visit http://www.taproduce.com
###