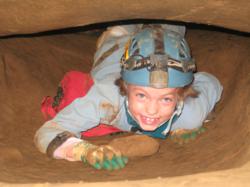 Scout did not get this award because she is cute....she got it because she is extraordinary.
Harrisonburg, VA (PRWEB) August 02, 2011
This summer, the nation's premiere women's hiking club, Trail Dames, honored 9 year-old Scout Aulenbach with their "Adventurer of the Year Award". Scout Aulenbach, a native Georgian, has been a caver since she was in utero and her first "out of body" caving experience took place in a series of Florida caves when she was 5 weeks old. Since then, she has explored over 80 caves throughout the U.S. and has guided countless first-timers, both young and old, into the depths of the Earth.
Due to her young age and positive attitude, Scout has the gift of easing nerves, and as a result, has spent the last four years leading numerous teachers and students into caves and becoming an expert caver in her own right. Her passion and knowledge for the cave environment and life within shine through during every caving trip. People who enter one of Scout's guided caving trips feeling fearful always leave comforted and well-educated about the rock formations, bats, crickets, and spiders. Scout has opened up a whole new world to so many individuals who would have never known the beauty and tranquility right beneath his or her feet.
This last spring, Scout and her mother Nancy Aulenbach escorted an Atlanta-based hiking club called the Trail Dames to a cave in Georgia called Howard's Waterfall. A large number of women gathered for the adventure, and Scout readily accepted the challenge of making them all feel comfortable about their new experience. Before entering, Scout advised the group of the safety rules and all of the women seemed more than willing to accept the advice of a little girl, . She pointed out bats on the ceiling, kept the conversations positive and light-hearted, and instructed the women where to place their feet and body parts when maneuvering tricky obstacles. Most importantly, she was able to calm them down whenever nerves or claustrophobia began to rise.
Later, when a call was put out for nominations for the Trail Dames National Adventurer of the Year Award, Scout's name was brought forth by several people and the vote was unanimous. Anna Huthmaker, president and founder of the Trail Dames, was quoted as saying, "Scout was not given this award because she is cute or sweet….she was given it because she is extraordinary".
Also presented at this year's Summit was the "Gregory Mountain Products Woman of the Year Award" This year's recipient is writer and adventurer, Cindy Ross. For the past few 30 years, Cindy Ross has crossed the 2100-mile Appalachian Trail, tackled the 2600-mile Pacific Crest Trail, and led her family on a five-year journey of the Contenintal Divide Trail using llamas, backpacks and tandem mountain bikes. All of these adventures resulted in books and her latest endeavor is a new book, tentatively titled, Bright Stars- Raising Children Who Love Learning Using the Whole (Natural) World. Cindy's current passion is to spread the word on how important the natural world plays in educating our children, and how to get them outdoors.
Trail Dames was honored to present these women with awards. Both Scout Aulenbach and Cindy Ross are true examples of courage, excellence and drive and through the commitment they each have to their passions, have become inspirations to women all over the country.
###