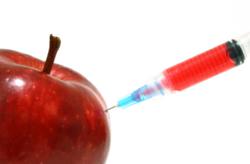 We have a customer that claims her husband knows when she has taken a B-12 shot because she cleans every inch of her house like a neurotic madwoman."
Dallas, TX (PRWEB) August 03, 2011
InShapeMD™ Dallas locations have launched a free vitamin B-12 injection promotion for the month of August. There are no strings attached and no purchase is necessary to receive a free B-12 shot. Known as the "energy vitamin", B-12 is essential for many critical functions in the body. From energy production to supporting the immune system to helping regulate the formation of red blood cells, vitamin B-12 is supplemented by many in order to keep their body operating at optimum levels.
A recent US Framingham trial reported that one in four adults in the United States are deficient in vitamin B-12, and that nearly half of the population has suboptimal blood levels. Possible symptoms of a vitamin B-12 deficiency include poor memory, lack of energy, trouble concentrating, irritability and moodiness. Left untreated a severe case of vitamin B-12 deficiency can lead to irreparable damage to the body.
Sometimes seemingly healthy people, even young women, may have low levels of B-12 without being aware of it. InShapeMD™ Dallas locations owner Greg Johnson shares, "We have a customer that claims her husband knows when she has taken a B-12 shot because she cleans every inch of her house like a neurotic madwoman."
There are many options available for individuals wanting to supplement with vitamin B-12. The most common method of delivery is tablet, pill or oral spray. Although these methods can be effective, research indicates the level of absorption to be as low as 15%. InShapeMD™'s method of injecting vitamin B-12 intramuscularly is by far the most effective method of delivery.
Dallas residents wanting to receive their free vitamin B-12 injection need to simply fill out a form at http://ismd.us. This will entitle both them and a friend of their choosing to a free vitamin B-12 injection at any of the Dallas InShapeMD™ locations.
InShapeMD™ is a medical weight loss facility. InShapeMD™ is a national franchise and there are currently five InShapeMD™ locations. This promotion is only for locations within the Dallas Metroplex which include: Carrollton, Dallas (White Rock), McKinney, Mesquite and Plano. The phone number for all Dallas InShapeMD™ locations is (214)775-0613.
###