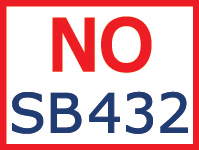 Sacramento, CA (PRWEB) August 02, 2011
The broad-based coalition opposing SB 432 (Kevin De León, D-Los Angeles), an unnecessary and ridiculous bill mandating hotels use fitted sheets instead of flat sheets on hotel mattresses, launched a new website today at http://www.NOsb432.com to fight the bill in the last month of the legislative session.
The No on SB 432 coalition includes small and large, chain and independent hotel and lodging facilities; the California Chamber of Commerce; local chambers; and local business groups representing convention and visitors bureaus. The bill is sponsored by lawyers looking to open up a new avenue to file lucrative workers compensation lawsuits against hotels.
"SB 432 is a waste of the legislature's time and the taxpayer dime," said Lynn Mohrfeld, president and CEO, California Hotel & Lodging Association. "Voters and Californians will be outraged when they learn that instead of focusing on the many real problems facing this state, lawmakers want to regulate bed sheets. It's absolutely ridiculous that the legislature would even propose a bill like this, particularly since there is no evidence that fitted sheets are any better for workers.
"SB 432 would cost the hotel and lodging industry $30 - $50 million to replace sheets and buy the appropriate laundry equipment. On top of that, it would cost millions more in frivolous lawsuits – costs that will be passed on to hotel customers. This is nothing more than a transparent ploy to provide workers comp attorneys and trial lawyers a new avenue to file frivolous lawsuits."
The arguments against SB 432 are overwhelming:

Studies Confirm Types of Sheets Don't Matter to Working Conditions: SB 432 is being introduced under the guise of worker safety, yet no studies exist showing fitted sheets are safer or reduce workplace injuries. Not even the study being used by SB 432 supporters says fitted sheets are better for hotel worker safety. That's because fitted sheets vs. flat sheets makes no difference to worker safety.
Hotel Working Conditions Already Heavily Regulated: Hotel working conditions already are heavily regulated and overseen by CalOSHA to ensure working conditions enable housekeepers to perform their duties safely. So why is the Legislature meddling?
Hotel Industry is Motivated to Protect Employee Safety: The hotel industry is at the forefront of efforts to protect workers from injuries. It only makes sense. The industry needs healthy housekeepers to succeed and does everything possible to prevent injuries. Injuries to workers leads to increased costs through absenteeism, increased medical costs, and increased insurance premiums. If fitted sheets were better for workers, the industry would have moved to use them a long time ago.
SB 432 Will Further Harm California's economy: Hospitality and tourism are viewed as one industry that can help California pull itself out of recession. The industry creates 858,800 jobs in California, pays $23.2 billion in employee wages, generates an additional $99.4 billion in tourism related sales and pays $14.9 billion in state and local taxes. Now is not the time to be imposing costly regulations on the industry and its guests – particularly when there is no benefit to employees.
The bill also has been pilloried in the media as a useless, legislative time waster when the state has other far more pressing matters at hand such as improving California's economy and creating jobs.
A Sacramento Bee editorial called SB 432 a "waste of time" and urged lawmakers to "make it go away."
The LA Daily News said SB 432 is "pandering legislation."
The North County Times in San Diego was worried about the "unintended consequences … such as the increase in room rates …which will result in less available cash for such guests to spend on other activities, goods or services that could help the economy."
The launch of http://www.NOsb432.com is just one facet of an aggressive campaign to defeat this legislation.
# # #