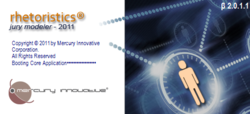 Rhetoristics® Jury Modeler offers a cost-saving, accessible, and scaled jury analysis process to trial lawyers.
Scottsdale, Arizona (PRWEB) August 30, 2011
Socrates and Aristotle would be awe-struck as the 21st Century trial lawyer will soon have a groundbreaking jury analysis tool within their grasp. Rhetoristics® Jury Modeling Software - http://www.rhetoristics.com - lets litigators test their statements on a model of their jury before they enter the courtroom. The new software is the invention and product of the award-winning start-up company Mercury Innovative of Scottsdale, Arizona. Product testing is on-going and release will take place in Fall 2011.
"Rhetoristics® Jury Modeler offers a cost-saving, accessible, and scaled jury analysis process to trial lawyers. Inconsistent and expensive methods in jury profiling will soon be a thing of the past," says Peter Wegner, CEO and founder of Mercury Innovative. "Profiles of current or prospective jury members coupled with a persuasive language model of any selected prior court cases allow the user to see how a statement might be received in the courtroom, and which jurors might be sensitive to courtroom statements," adds Wegner. The software helps users understand how their statements connect to different jury members, tune their language to their modeled audience, as well as understand the persuasive strategies used in any selected prior-cases. The program finishes the process with exportable jury analysis reports.
Mercury Innovative's team won an award consisting of a business development grant and entry into the Edson Student Entrepreneurial Initiative, a start-up incubator managed by Arizona State University. The Mercury Innovative team was selected by a panel of industry-leaders and experts from a pool of nearly 300 entrants. The Edson Grant and Incubator will help the company market and test their new Jury Modeling Software. Beta-testing is beginning at several national law firms.
A free jury profiler app for mobile devices will be released to the public at the same time as the main application. Lawyers can create jury profiles on mobile devices using the free app and then later send and load the jury profile into the main application for analysis. To help even the playing field, Mercury Innovative is planning to offer the software at a discounted price to County, State, and Federal governments as well as academics. Rhetoristics® Jury Modeling Software is now in the beta-testing stage of development and will be available for purchase via the product website - http://www.rhetoristics.com - in Fall 2011.
Mercury Innovative is located in Scottsdale, Arizona and was founded in 2010. The company is dedicated to creating and marketing language analysis and visualization tools. Questions can be directed to info(at)mercuryinnovative(dot)com or 800.716.2674. The company's legal representative is Cotten, Schmidt, and Abbott, L.L.P. of Fort Worth, TX. "Rhetoristics" and "Mercury Innovative" are registered trademarks. Patents are pending.
###