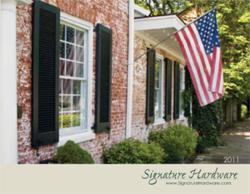 Signature Hardware's 208-page catalog features large product images, color-coded sections and a front index for easy viewing and searching.
Erlanger, KY (PRWEB) August 05, 2011
Signature Hardware invites customers to view its latest free, full-color catalog that features hundreds of new items and proven favorites. The 208-page catalog features large product images, color-coded sections and a front index for easy viewing and searching. Throughout the catalog customers will find web link boxes to signaturehardware.com for expanded offerings and information on merchandise.
Signature Hardware continues to increase the variety of core items for the home, including new styles of freestanding bath tubs, massaging air baths and clawfoot tubs. Customers can add a new Thermae towel warmer, whether plug in, hard wired or liquid-filled, to complete a custom bathroom experience. Adding a shower slide bar allows for a completely customizable shower experience. New bath hardware kits include towel bars and rings, toilet paper holders and robe hooks to create a unified look in any bathroom.
The company has added more than ten new models of bathroom cabinets to its Milforde Collection vanities. These cabinets are made exclusively for Signature Hardware and come in traditional, modern and Craftsman styles. Customers can choose from a range of vanity sizes; a choice of granite, marble or crystallized glass tops; and faucet drilling options for a truly customized look. For a contemporary, space-saving cabinet, the company now carries wall-mount bathroom vanities, many with matching mirrors.
For the gourmet kitchen, homeowner's can choose from new stainless steel or fireclay farm sinks. The stainless steel sinks perfectly complement the company's line of range hoods. Combined, these items create a sleek look ideal for a modern kitchen. The fireclay farmhouse sinks are made from hard, dense and durable clay that is glazed and fired at high temperatures. The result is a material that is highly resistant to chipping and cracking, making these farmhouse sinks perfect for the high-use kitchen.
Updating a home's hardware is easy with new registers, either the stylish honeycomb design or many styles made of cast iron, bronze, or wood, which all work well with a traditional-style home. A simple way to create a cohesive look is to use the same design theme throughout the home. Signature Hardware's electrical plate covers are available in nine design options, including Mission, Greek key and Georgian, and 24 plate configurations.
Solid bronze is the material for many hardware pieces including door sets, cabinet knobs and pulls, bath hardware and wall accent tiles. Using the same material throughout the home can create a striking, unified look.
Customers can revise the look of entryways with stair hardware, door knockers and doorbells and mailboxes. New stair hardware and handrail brackets add a measure of safety to stairways. Stair rods, brackets and finials are available as sets or individually to mix and match styles. These decorative and functional sets are made from solid brass and keep carpet runners in place for added safety. Sturdy handrail brackets come in a variety of designs from simple to ornate to fit well with many styles of décor.
The company has expanded their selection of mailboxes with new copper, stainless steel and aluminum wall-mount mail slots and boxes and post mailboxes. They are available in a variety of design styles from utilitarian to decorative and pair well with brass, bronze and iron house numbers.
Signature Hardware has added the line of Maycreek outdoor products. Exquisite stone fountains and lanterns, made from hand-carved granite, marble and lava stone create an oasis in any garden, yard or patio area. For backyard entertaining, the company has a complete line of teak outdoor products from table and chairs, which can be purchased individually or as a set, to storage benches and lounge chairs. Finish creating ambience for your outdoor gatherings with copper lanterns, available for tabletop or lawn stake applications.
The catalog also showcases many other new items from house brands Nottingham Brass, the Whittington Collection and Signature Aire, the line of luxurious air bath tubs. Exclusive to Signature Hardware, these items are made from high-quality materials in a variety of styles and finishes. Customers are invited to order a free catalog online or by calling customer service toll free at 1-866-855-2284.
About Signature Hardware
Signature Hardware is a direct merchant of antique-style reproduction fixtures for the home. Working directly with the factory and selling direct to the end consumer, they are able to provide superior service and exceptional value. The firm distributes its products nationwide, and sells direct to the consumer by the use of print catalogs, its retail showroom located in the Cincinnati area, and online.
###