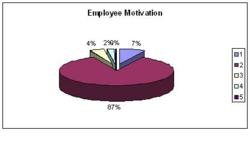 (PRWEB) August 09, 2011
FPC's recently released workplace web poll results indicate that people ultimately want to be doing what they find to be meaningful work, motivated by their interests, rather than by fiscal rewards as a driver.
FPC, a national executive search firm, polls job candidates who visit http://www.fpcnational.com to search for openings and gain career insights on their perspective on workplace issues and trends.
Results show an overwhelming majority of survey responders indicated they were happiest at their job when they had extremely interesting work (87%). If you thought high salary would be the overriding factor, you would be mistaken; only 2% of survey responders thought it was most important, ranking almost last out of five choices. Other selections also paled in comparison to the importance of engaging job responsibilities. Social interaction ranked a very distant second, trailing behind with only 7%. Opportunity to travel was also not a high priority, rated as important by only 4% of survey responders.
Additionally, a total of 80% of candidates polled feel the need to identify with what their company is marketing. Within that segment, 48% said it was very important for them to have a passion for the products and services their company offers. A remaining 32% said that it was only somewhat important, but still a factor in their company choice.
A total of 2,164 responders surveyed during the months of June and July 2011, across all industries and job levels, answered the following questions:
1. "Think of the best job that you ever had. What made it the best?"
7% Social interaction with co-workers; we went out after work every week
87% Extremely interesting work; I thought about my work on and off the job
4% Opportunity to travel; this is one of the greatest perks of employment
2% High salary; that is what really makes for a good job
0% I've never been happy at my job, but I don't expect to be; that is why they call it 'work'
2. "How important is it that you have passion for the products/services that your employer provides?"
48% Very important; I cannot work for a company whose products and services I do not enjoy
32% Somewhat important; I'd like to be able to identify with the company's customers
7% Nice to have, but not absolutely necessary; it may help a little
9% Not at all important; my focus is the same, regardless of company products / services
4% I work harder when I don't identify with the products, since I have more to learn
Ron Herzog, CEO & president of FPC, said, "People ultimately want to be engaged in their job. Even in challenging economic times, where there are fewer job opportunities, being passionate about what they do continues to be an important factor in career selection."
About FPC
FPC is a national executive search firm with close to 70 franchise offices. Since 1959, FPC recruiters have been committed to bringing together the right individual with the right opportunity. FPC conducts research to provide the most current advice and information to job candidates and client companies. FPC press releases share pertinent results with the public. For information about FPC, call 800-886-7839 or visit http://www.fpcnational.com.
CONTACT:
Andrea Manafov
Marketing, FPC
212.302.1141
###