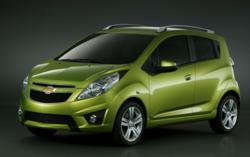 Green Bay, WI (PRWEB) August 06, 2011
GoAutoPlus.com sells many new and used vehicles in Wisconsin and works with many dealerships across the state. Right now Wisconsin buyers are interested in smaller, more fuel efficient cars and that is what GM is bringing to the U.S. GM announce on Thursday, August 4, that they will be selling the Chevy Spark in the U.S. in 2012. Wisconsin Chevy dealers are anticipating the Spark arriving here so that they can bring it to the residents of Wisconsin.
The Spark will be competing in the class B segment and will offer consumers a small economical car that is very useful for commuting. Chevy has already come out with two new fuel efficient vehicles this year, the top-selling Chevy Cruze and the soon to arrive, Chevy Sonic. GM is obviously building its repertoire for the small car market this year which benefits consumers.
GOAutoPlus.com is a website portal for car dealerships in Wisconsin and brings the people of the state a place to search for over 12,000 vehicles in one spot. They sell many new vehicles as well as used cars in Wisconsin. Check out GOAutoPlus.com for a one-stop shop for all cars in Wisconsin.
# # #