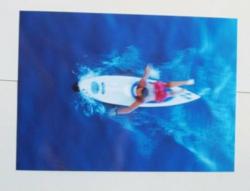 Every story reinforces our cause; that it is greatly needed … and that we are truly making a difference. -- Mike Rogers
Los Angeles, California (PRWEB) August 16, 2011
The Ocean of Hope keeps the Sarcoma Alliance afloat. It started 12 years ago at the Catalina Classic, and has grown into a series of ocean races that have raised more than half a million dollars.
"It has been an amazing road from when O2H started in 1999 with only one paddler … and a vision," says Mike Rogers, who will compete for O2H on Aug. 28 in the Catalina Classic Paddleboard Marathon, finishing on Manhattan Beach in Los Angeles County.
Rogers did the Classic from 1995 to 2000. Returning to help the Sarcoma Alliance, he has discovered this rare cancer is not all that rare, at least not to O2H members, some of whom have lost friends and relatives.
"Every story reinforces our cause; that it is greatly needed … and that we are truly making a difference."
Sarcoma is a cancer of connective tissue, including muscle, bone, fat, nerve, cartilage and blood vessels. It can occur throughout the body, and it strikes men, women and children of all ages. It isn't tied to lifestyle choices such as diet and exercise.
O2H members hope to raise $50,000 this year, bringing the 12-year total to $600,000. Just as important is awareness. The National Cancer Institute recognizes that sarcoma is "frequently misdiagnosed and highly underreported." Patients -- and their health-care providers -- may not know all the treatment options or that nonprofits can help.
"O2H" is a play on H2O, the molecular formula for water. This year's events started in January -- on land for the first time -- when O2H co-captain Aimee Spector ran in the Avalon 50 on Catalina Island. O2H helped host the Cold Hands Paddle and the Rock 2 Rock Paddleboard and Stand Up Paddle Race, both at Cabrillo Beach in LA County.
In his second year for O2H, Scott Gamble won second place July 31 in the men's standup division of the Molokai 2 Oahu Paddleboard World Championships. He honors the memory of a 22-year-old cousin who had angiosarcoma and rhabdomyosarcoma.
"The wind, tide and swell were very good," Gamble says. "There were a lot of records broken! I beat my personal best by 30 minutes."
In the Hawaii race, Steve Shikiya and Joel Pepper raced in relay teams for O2H. Shikiya is new to the Ocean of Hope, but not the ocean. He has surfed since he was 4, and always thought paddling was the worst part. Two years ago, Joe Bark, a premier boardmaker, offered to lend him a paddleboard, saying, "If you try it, you'll like it." He did, and "from that moment, I was hooked."
Unlike surfing, paddleboarding can be done almost any time or place, he says. "I needed an excuse to do more exercising." He joined O2H after talking to Phil Ambrose and other team members. He was impressed that the Alliance was so involved with the paddling community.
"I'm passionate about fighting all kinds of cancer," says Shikiya, who was treated for non-Hodgkin's lymphoma 2007-08. "After treatment, your perspective changes so much. Life is short, and I'm more goal-oriented."
This year he decided to compete in Rock 2 Rock, Molokai 2 Oahu and the upcoming Catalina Classic. Spector asked why he wanted to take on the "holy trinity" of paddleboarding.
"Because I can do them right now," he responded. "I don't know about next year."
For the Classic, Shikiya will join teammates Pepper, Ambrose, Rogers, Mark Schulein and O2H co-captain Fred Sardisco. Afterward, the team will raffle off a standup paddleboard donated by Bark, with all proceeds going to the Sarcoma Alliance.
Next comes the U.S. Outrigger Championships in September, from Newport Beach to Catalina Island. The women's team from the Lanakila Outrigger Canoe Club, which won last year, will paddle for O2H again. O2H team members include Spector, Katy Arnold, Agnes Regeczky, Jean Geddes, Theresa Connolly, Maki Miyazaki, Heather Suskin, Dawn Suskin, Suzanne White, Nancy Huh, Lisa Harden, Jessie Kennedy and Tanya Muhle.
"The Sarcoma Alliance is not a big, corporate organization. It does not have major sponsors or huge overhead costs," says Spector, explaining why she supports the nonprofit north of San Francisco.
"Aimee got our canoe club, Lanakila, involved in Ocean of Hope and it seemed to me like a great way to add something meaningful to our training," Arnold says. "I started fundraising, and the support I got from friends, family and acquaintances was overwhelming, so I continued to fundraise every year, and now do it as part of my oc1 [outrigger canoe – 1 person] races in the spring. I like paddling outriggers because I love water sports, the ocean, and there is nothing like riding the swells in the open ocean, especially in Hawaii. It is truly exhilarating."
"You are not alone" is the motto of the Alliance, which serves the newly diagnosed, long-term survivors, family members, caregivers and friends. All services are free. They include a peer-to-peer network, live chat room, blog, Facebook page, YouTube channel and discussion board so that people can support one another and share information. The Alliance provides financial assistance to patients seeking a second opinion from sarcoma specialists, and it helps start sarcoma support groups. It works closely with the medical profession and other nonprofits.
###