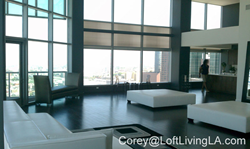 Renters and buyers in Downtown Los Angeles need a Downtown specialist Realtor®.
Los Angeles, CA (PRWEB) August 30, 2011
Downtown Los Angeles is experiencing a revitalization like never before. Since 2000 to the present, the improvement of Downtown L.A. has caused a huge influx of new residents into this area, causing a completely unprecedented trend in real estate prices that has seen the values of certain key properties not only stabilizing, but some, such as in the South Park District, even increasing according to the L.A. Loft Blog. Nowhere, however, does this renaissance apply more than when it comes to buildings featuring quality loft-conversions.
A loft conversion is the result of transforming an empty space into one large functional area suitable for living and/or working. Taking its cues from other major metropolitan areas across the country, Developers focusing on the highly urbanized heart of the city have moved to refurbish and redesign many previously thought-to-be-obsolete older industrial buildings by creating fresh new living spaces. The result is that the downtown area is the place to be, and experts are declaring this movement will only continue! In fact, demand in Downtown LA is now so big that inventory of rentals and units for sale are the lowest in years. "Most buildings that were nearly empty a couple years ago are now nearly 100% occupied," proclaims one local real estate agent. "It's a seller's market. Where there used to be hundreds of units to choose from, now there's literally only dozens -- and the demand is growing!"
The pace of sales is speeding up. One year ago, buyers were often dismayed that short sales could take 6 months to complete. Now, two months is the norm. Regular sales can be much faster; several South Park units have recently received accepted offers within just a few days after listing. One Downtown condo is now in escrow with a selling price $60,000 higher than the purchase price just ten months ago.
Then again, as any truly savvy resident can attest, the benefits to living in such a distinct and freshly enlivened neighborhood are seemingly endless: style, convenience and the understanding that they're part of the current and coming "thing" keeps those in the "the know" flocking to this vicinity. Not only that -- downtown neighborhoods continue to enjoy a brand new influx of businesses practically on a monthly basis. After a long absence of any major grocery stores, supermarket leader Ralphs recently opened a location there that now serves record numbers of customers, while retail giant Target is under construction. Each new establishment makes life easier and more convenient to Downtown dwellers like never before.
Luxury residences are on top. The new ritzy luxury condominium tower at L.A. LIVE is bustling with activity. Since opening less than six months ago, 36 escrows have closed, and many homeowners have moved in. The highly-anticipated Farmers Field being steps away from the residences is becoming more of a reality after the city just approved the new football stadium and convention center expansion.
"Other cities have always valued their history and culture as expressed in their old buildings like these," says a downtown resident. "that hasn't always been the case with LA, but now that's been changing and its so awesome to see and be a part of!" Many of the amenities this unique area offers can be found no where else in Southern California. Where else locally can one walk down a street lined with intricate architectural designs dating back to the post World War One period, which feature the kind of sumptuous edifices seldom found in today's newer structures? (Attention to detail such as regularly evidenced here hearkens back to those golden days when a building wasn't just erected -- it was 'created' from the ground floor up!) In addition to close proximity to the city's thriving financial district and such landmarks as the Staples Center, LA Convention Center and the recently opened LA Live Plaza, no where else is found elegant movie palaces, or world-class dining experiences ranging from the classic Pantry to hot trendy, newer eateries like Bottega Louie. Is it any wonder then, that even celebrities like Johnny Depp and Quentin Tarantino have taken an interest in this quickly re-emerging locale, and, themselves, have even played a part in its restoration?
A magnificent source of information regarding this prime spot and loft conversions in general is "The LA Loft Blog"-- the most popular loft-oriented website in Downtown Los Angeles and its immediate environs. Whether you're seeking to buy or rent, the L.A. Loft Blog is specifically designed to provide the greatest number of loft listings, along with much needed information with which to make an informed decision regarding present market conditions and beyond. One recent posting reports that most luxury loft and high-rise apartment rentals in the Downtown area have recently SOLD OUT. In fact, 40% of the units in a newly renovated building the management likes to refer to simply as the "Old Paint Company" (located in a one-time industrial space currently so in demand that they choose not to give the name out) have been sold; 28 units sold in the past few months.
Loft Living L.A. is the world's most used website about lofts. Owners Ted Trent and Drew Panico, the folks behind Loft Living L.A. are genuine Downtown Specialists when it comes to loft sales, promotion and understanding their client's particular needs and desires. Another such specialist is Corey Chambers, qualified Realtor® in his own right. The many accomplishments of Corey and the Loft Living Team include dedicating themselves to continually refining information concerning this growing segment of the home-seeking public. "We offer free staging and professional video when Loft Living L.A. lists a loft for sale" Chambers notes, "so right away you can see from the comfort of your own computer, the place you're considering." He likewise publishes "The LA Loft Blog." Given such innovative tools, paired with the insights to make the most of them, it should come as no surprise that it is the number one blog concerning loft-conversion living in Los Angeles.
"Whether you're buying, renting, or selling a Los Angeles loft property, our team of loft condo experts have discovered even many enthusiasts consistently make one or more of the same three mistakes." Chambers further reveals; "Buyers, sellers, landlords, and tenants usually do not have the time to research all "loft condo" or "managed" residential buildings before buying, renting or selling a property, and when you're unfamiliar with any localized real-estate market and its cycles, that lack of knowledge can lead to unsuccessful outcomes and expensive mistakes which we can help you avoid." He suggests potential buyers and tenants to the area should make special effort to learn as much about their new residence as possible before making the move to this vibrant way of living. "Buyers, sellers, renters and landlords absolutely must work with a knowledgeable Downtown specialist" he discloses; "Common confusion surrounds topics concerning the Mills Act, buildings that cannot get loans, lawsuits, construction problems, short sales, foreclosures, live/work, zoning, tax breaks, parking, pets, transportation and safety."
Fortunately, thanks to the education it makes readily available to anyone, Loft Living LA has proven itself to be indispensable in assisting those interested in making the transition to loft residency easy and painless.
###