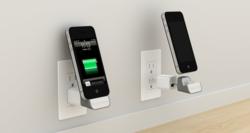 Charge your iphone or ipod upright and off the floor.
Pasadena, CA (PRWEB) August 08, 2011
Bluelounge, the award-winning international design studio known for sleek, functional, design-forward cable management and home/office organization products, today announced the market-wide availability of MiniDock, a cord-free wall charger and display-docking station made for Apple iPhone and iPod devices that uses the existing Apple USB Power Adapter. MiniDock represents the latest in a series of sleek, innovative cord management products from Bluelounge, all designed specifically for Apple iPhones and essential for travel and household charging needs.
MiniDock allows consumers to charge and display their iPhone in an upright position in any electrical outlet without disorganized cords. Intended for use with existing Apple USB Power Adapter, iPhone or iPod can now plug directly into an electrical outlet. Ideal while traveling or in any home or office environment, MiniDock is lightweight, cord-free, and allows users to simplify and de-clutter the charging areas normally occupied with the unsightly and wayward cords. Users no longer need to deal with untidy cords while packing or when charging their device. With MiniDock, the user can charge their Apple devices upright, directly into their Apple USB Power Adapter, conveniently and seamlessly anywhere where an electric outlet is available.
"Our customers are passionate about their iPhones and their accessories," said Dominic Symons, Bluelounge Principal and Creative Director. "People are proud of their devices so they treat them with care and worry about their phones getting damaged when in use or while traveling. MiniDock meets the public's desire perfectly, with a sleek and innovative charging station that doubles as a display stand, so proud iPhone owners can use their hardware efficiently while they charge it. Our unique design keeps their phones safe, off the floor and out of harm's way—all at the same time."
Price and availability
The MSRP for MiniDock is $19.95 and is available in three versions to fit US, UK and EU adapter standards. MiniDock is available on the Company's website at http://www.bluelounge.com/products/minidock/ and at retailers worldwide.
About Bluelounge
Bluelounge, founded in 1999 by designers Dominic Symons and Melissa Sunjaya, is a multidisciplinary design studio that creates a synergy of product, graphic, interactive design and original illustration. Bluelounge products are distributed through over 100 U.S. locations and 35 international distributors, promotional agents and licensees. Bluelounge design studios and administrative offices are in both Los Angeles and Jakarta, Indonesia. In addition to their own branded products, Bluelounge has undertaken design commissions for major corporations such as Airwalk, Microsoft, Panasonic, and Trina Turk. To experience Bluelounge's stunning portfolio of home and office products please visit the online catalog at: http://www.bluelounge.com/products/.
To join the Bluelounge social media community please follow the company on Twitter at http://twitter.com/bluelounge and Facebook at http://www.facebook.com/Bluelounge.
Note to reporters: high resolution images of Bluelounge's products are available for download at http://www.bluelounge.com/media/.
###