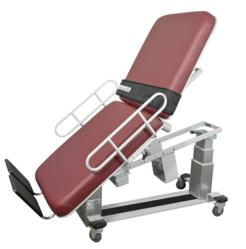 Oakworks is proud to introduce a new line of multi-purpose ultrasound exam tables designed in alliance with Carolyn Coffin and Joan Baker of Sound Ergonomics, leaders in sonographer ergonomic education.
New Freedom, PA (PRWEB) August 09, 2011
OAKWORKS®, Inc., the premier U.S. manufacturer of medical, spa, and massage equipment, announces the launch of the Oakworks Multi-Specialty, the Oakworks Women's Imaging and the Oakworks General Ultrasound exam table line, as well as the innovative new Oakworks Vascular and Echocardiography table models.
Jeff Riach, CEO and Cofounder of Oakworks with Linda Riach, said; "Oakworks is proud to introduce a new line of multi-purpose ultrasound exam tables designed in alliance with Carolyn Coffin and Joan Baker of Sound Ergonomics, leaders in sonographer ergonomic education. Working together we developed an advanced series of exam tables that exceed the industry standards for the prevention of work related musculoskeletal disorders in sonography. At the same time, we addressed safety and comfort issues for patients with our new echocardiography table. These new tables were needed to complete our mission to create results oriented equipment."
Carolyn Coffin, CEO of Sound Ergonomics, said "Oakworks is known as a family owned business with incredible values for ergonomic product designs and its commitment to USA based manufacturing. Our company research found that they are leaders in their industry and had won numerous awards for product design and customer service. They are great to work with!"
Focused on providing the sonographer the overt benefits of safer patient access, larger patient positioning and improved ergonomic table adjustment, Oakworks has produced a robust line of ultrasound exam tables that feature a dual lift column design capable of a 600lb lift and load patient weight capacity. The clean and compact table design permits the sonographer to position themselves and the ultrasound systems closer to the patients minimizing stress and unnecessary abduction. Each table comes with all procedure appropriate standard features and also provides the flexibility to customize each table with an array of accessory options. The sonographer can provide many types of exams such as Musculoskeletal, Cardiac, Vascular, OB/GYN, Breast exams as well as perform Biopsies and Venous reflux studies.
The Oakworks Vascular and Echocardiography table models in particular have received a great deal of attention from industry professionals, thanks to several innovative features that separate them from other tables on the market. The Vascular Ultrasound Table is available with a flat top or with a powered Fowler, and both feature 40 degree reverse trendelenburg. The combination of Powered Fowler and reverse trendelenburg create a 70 degree near vertical position for patients, facilitating reflux studies. In addition, both models have a large vertical height range which allows sonographers to be seated while doing reflux studies. The Echocardiography Ultrasound Table has an innovative, patent pending, sliding panel access design instead of the traditional; one size fits all, drop away or swing away systems. The sliding panel allows the sonographer to safely create the space they need for scanning. It is available in a manual and in a powered version.
Sound Ergonomics, LLC provides work site assessments and the development of ergonomic programs for diagnostic imaging professionals. The consultation and training that is provided is unique to the healthcare profession. Additionally, exercise programs, adaptive equipment products and equipment recommendations for environmental solutions are available and are specific to the needs of medical and veterinary practitioners. The mission of Sound Ergonomics, LLC is to support the community of allied health professionals, and to develop and preserve the health and safety of these professionals.
For more information about Sound Ergonomics, visit http://www.soundergonomics.com/
Since 1977, Oakworks has been committed to providing safe, durable, comfortable and ergonomic medical tables, spa tables, physical therapy tables, athletic training tables, massage tables and positioning accessories to industries supporting the health and wellbeing of people all over the globe.
Since its inception over 30 years ago in South Central Pennsylvania, OAKWORKS® has been committed to creating products that promote comfort, relaxation, and healing for individuals receiving therapeutic treatments. Currently employing more than 130 talented and committed men and women, in a modern 91,000 sq. foot facility located in New Freedom Pennsylvania, Oakworks is capable of producing more than 250 superior quality, rigorously tested pieces of equipment a day – equipment sold in all 50 US states and through a network of distributors in 35 countries worldwide.
For more information, visit http://www.oakworksmed.com
For additional information on Oakworks and their products Contact:
Email address: info(at)oakworks(dot)com
Phone: 717.235.6807
###