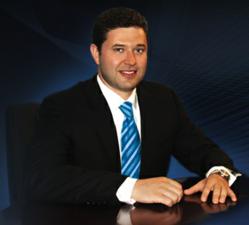 (PRWEB) August 11, 2011
Here's a surprising mouthful: even following your best dental cleaning, your chompers might not be in their most pristine state. With a focus on teeth alone, the average dental hygienist isn't the prime candidate to scrub down the one part of your mouth that can clean not only your smile, but your total bill of health: your gums. "What people don't realize," says board certified periodontist Dr. Baruch Tetri, DDS, who has just launched his first namesake Manhattan practice, "is that gum care is as much a choice towards a healthy lifestyle as going to the gym." In fact, with improved gum hygiene, Dr. Tetri's patients regularly report increased heart health, more controlled diabetes, and a shocking new lease on life.
Not Just a Three-Year Degree – A Lifetime of Training
Having started his dental training at the young age of 14 at a specialized high school in his native Israel, Dr. Tetri may as well be considered a periodontic prodigy. After four years of training there, he took up a 6-year degree in dentistry at Moscow's premiere dental institution, only to follow with another three years stateside at NYU, largely considered the most prestigious program for surgical periodontal specialties in the world. Unlike most dentists, whose training ends upon receiving their DDS, Dr. Tetri continued his specialization with a three-year residency at NYU's periodontic program where he worked under Dr. Dennis Tarnow, largely acknowledged as one of the best oral surgeons in the world.
A Non-Invasive Philosophy
Two practices and several years later, Dr. Tetri has opened his own namesake office in Manhattan's posh Upper East Side, where he offers a unique philosophy on gum care that extends its reach to the masses. "It's not all about surgery, and it shouldn't be," says Dr. Tetri, whose emphasis on pristine periodontic hygiene helps him prevent the onset of gum disease and avoid invasive procedures, even after disease strikes. "Surgery causes pain, and pain discourages maintenance," he says, further advocating for the benefits of non-invasive work as a gentle method of encouraging long-term care. Whereas other periodontists use surgery as a costly sticker solution to these oral health issues, Dr. Tetri understands the root of gum disease as a chronic condition: without constant care and upkeep, it is likely to return no matter how expertly a surgery is managed.
Building Relationships, Healing Hearts, Changing Lives
By creating conditions that are virtually painless for his patients and helping them avoid invasive procedures, Dr. Tetri is known to forge lasting relationship with his patients, who return for cleanings every two to three months, as recommended. Often, these patients report major life changes, such as the older man whose extravagant insulin dosages steadily declined until they disappeared—all due to his improved gum health. Indeed, a strong correlation exists between gum health and total body health, as bacteria in the gums is largely correlated with a presence of heart disease. According to ample medical literature, having unhealthy gums can cause unhealthy levels of c-reactive protein in your liver, which can generate far more coronary arterial plaque than having high cholesterol. The cosmetic—and confidence-boosting—benefits are obvious, but periodontal care goes far deeper. It's no wonder that everyone can stand to benefit from periodontal care, regardless of age or medical history.
A Surgical Specialist, But Only When Necessary
In cases when surgery is absolutely unavoidable, patients can know they are in good hands. With the highest level of board certifications and a rare focus on cosmetic miscrosurgery, Dr. Tetri's results are aesthetically flawless, with before and after images that are constantly lauded by industry leaders. From grafting to implants and anything in between, Tetri's specialized training sees no procedural limitation. Better yet, Tetri's implant work is guaranteed for life as long as his patients follow the appropriate maintenance routines under his continued supervision.
The Best Tools of the Trade
State-of-the-art technology is a priority for Tetri, who uses the rare and costly Pax Duo 3D dental x-ray machine to project high-definition, three-dimensional images of each patient's mouth to any treatment room in the office. Similarly, Tetri's favorite method of sparing his patients the pain and cost of surgical procedures is through microscopic cleanings, which employ the use of microscope lenses that magnify his precision and allow impeccably thorough access to the mouth's every nook and cranny. For procedures that require the doctor's surgical finesse, Tetri uses a cutting-edge treatment called IV Sedation in addition to local anesthesia, which dulls all sensation but sidestep the risks of being put under.
All of these tools come at an extreme cost to Tetri and his practice, but the improvement they offer on his service makes the investment worthwhile. The sentiment is echoed by the best dentists in New York, who constantly refer their patients to Tetri for the specialized services only he can offer. Everyone agrees: With these tools in tow, he is able to make the process of dental care more efficient and error-proof, saving his patients time and agony.
An Emphasis on Comfort and Care
The stylish digs and comfortable procedure rooms certainly don't hurt, either: as a commitment to his patients' comfort, each room is outfitted with plush leather dental chairs that recline and adjust with the touch of a button. Televisions and headphones are provided to distract from what's happening below the nose, and even the oft-unfavorable dentist aroma is overridden by delicate aromas that waft from fragrance sticks scattered throughout.
In keeping with his medical philosophy, Tetri's office also makes sure that patients are taken care of and protected from a logistical standpoint, providing an accessible, fair price point despite their luxury standards. The office also employs full-time service from assistants that advocate on behalf of Tetri's patients for all insurance claims—something that's typically left in the patients' hands.
Baruch Tetri, DDS Periodontics and Implant Surgery is located at 250 E 63 Street on Manhattan's Upper East Side, and opened in January 2011. For appointments, please call 212-759-5363.
###