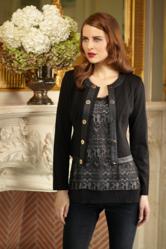 Los Angeles, CA (PRWEB) August 11, 2011
Women's designer clothing collection and the nation's largest direct sales apparel company, CAbi (Carol Anderson by invitation) has launched its Fall 2011 Collection. The collection is now available for purchase exclusively through CAbi's Independent Fashion Consultants and in-home shows.
The Fall 2011 Collection has been touted as designer Carol Anderson's most highly anticipated collection yet. Known as "the best kept secret in fashion," CAbi has become synonymous with contemporary yet cutting-edge style, leaving the fashion industry and the Internet abuzz with chatter over this exquisite collection.
Watch the CAbi Fall 2011 Runway Show
Fall Fashion Trends 2011: Iconic Starlet Inspired Collection
The CAbi Design Team designed with an eye toward luxe this season, opting for couture-quality fabrics like Silk Habotai and lace, and embraced body-skimming silhouettes. The collection is riddled with the fashion industry's hottest fashion trends for fall 2011, showing women everywhere how to create modern romance through blush tones; unleash their animal magnetism with skin prints; and embrace the supreme staple of the season – tweed.
The Fall 2011 Collection embodies the essence of some of Hollywood's most revered big screen starlets. Whether she's the girl-next-door like Meg Ryan in When Harry Met Sally, the icy blonde sophisticate, Grace Kelly, in Rear Window, or the every-girl-turned-fashionista such as Anne Hathaway in The Devil Wears Prada, this collection allows women to shine with their own personal expression!
View the CAbi Fall 2011 Look Book
A Sought After Career in Fashion
Yet it is not just the fashion that makes CAbi such an exceptional brand. The legion of passionate CAbi Consultants are a diverse and unique group of women from all walks of life, who truly do say "I love my job!"
CAbi Consultants are entrepreneurial women, who are driven to succeed in a career that affords them the balance of life, family and their communities. For this reason, CAbi has become one of the most successful home-based careers for women, as the fashion has become a conduit for financial success, a flexible schedule, and rich new relationships.
Heart Of CAbi Foundation
The charitable giving arm of CAbi, the Heart of CAbi Foundation, works with other internationally recognized nonprofit organizations to fulfill the mission of providing the poor and disenfranchised women of the world a greater opportunity and realization of empowerment through the gifts of clothing, financial support, and our volunteer efforts. Since 2005, the Heart of CAbi Foundation has donated over 1.4 million garments and 400 microloans to women in over 40 countries and in US communities that have been ravaged by natural disasters.
"The Heart of CAbi Foundation was created to help victims who lost every belonging in Hurricane Katrina – and now we've been privileged to help women across the world," said Scott Farquhar, CEO, CAbi LLC. "With the tremendous outpouring from the volunteers and individual donors and the caliber of organizations we've worked with, it begs us to imagine our impact in the next five years."
Watch the Fall 2011 Heart of CAbi Foundation Video
About CAbi LLC:
For over 25 years, women's apparel designer, Carol Anderson, sold her collections in high-end department stores and specialty boutiques across the country. In an effort to maintain her creative freedom and to bring her loyal following of customers even closer to the brand, CAbi (Carol Anderson by invitation) was launched in 2001. Leveraging the brand's reputation in the fashion world, CAbi is a lucrative career opportunity for women that brings Carol's designs directly to the customer.
CAbi has expanded its large national footprint with Consultants in all 50 states. CAbi offers two collections a year, which are available exclusively through the company's Independent Fashion Consultants. CAbi has developed a solid reputation for its unparalleled quality in clothing as well as its outstanding CAbi Consultants who are known for placing the customer's happiness with her clothing selections above sales.
For more information, visit http://www.cabionline.com and read CAbi's blog, the CAbi Canary, at http://www.cabicanary.com
View our Facebook page at http://www.facebook.com/cabiclothing and follow us on Twitter at http://www.twitter.com/cabiclothing
Contact: Marie Coleman, mcoleman(at)carolanderson(dot)com or (310) 683.3333 x682
###