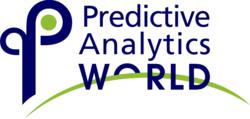 New York, NY (PRWEB) August 11, 2011
Predicting customer response and other buying behavior is fast becoming a boardroom imperative. By leveraging historical data in order to form predictions, many businesses are not only strengthening their businesses but also establishing new opportunities with predictive analytics.
Predictive Analytics World (PAW), October 16-21, NYC 2011 delivers the richest and most diverse program yet, featuring more than 40 sessions across 3 expertise levels that showcase real-life examples of deployed predictive analytics. Hear from hands-on professionals how Fortune 500 analytics competitors and other top practitioners deploy predictive modeling, and what kind of business impact it delivers.
View the Downloadable Conference Preview
Special workshops on a variety of topics offer a deep dive for every level of expertise. Workshop sessions include:

Driving Enterprise Decisions with Business Analytics (James Taylor, Decision Management Solutions)
Hands-On Business Analytics: Insights to Impact and Predictive Analytics: Fundamentals and Use Cases (Piyanka Jain & Puneet Sharma, PayPal)
Modeling Methods: The Best and the Worst of Predictive Analytics (John Elder, Ph.D., Elder Research)
Hands-On Text Analytics with IBM (Tim Daciuk, IBM)
Hands-On Predictive Analytics with SAS Enterprise Miner (Dean Abbott, Abbott Analytics)
R Bootcamp: For Newcomers to R and R for Predictive Modeling: A Hands-On Introduction (Max Kuhn, Pfizer)
Deploying User-Friendly Predictive Analytics (Jeff Mergler, TIBCO Spotfire)
PAW is the business-focused event for predictive analytics professionals, managers and commercial practitioners, regardless of skill level. These predictive modeling and analytics sessions, case studies, and workshops deliver the expertise and resources to establish new opportunities, strengthen the impact of your predictive analytics deployment and improve your marketing effectiveness.
Keynote speakers include Author Thomas Davenport, President's Distinguished Professor at Babson College, David A. Ferrucci, IBM Fellow & Watson Principal Investigator at IBM, and Eric Siegel, Conference Program Chair. Davenport will speak on Every Day Analytics: Making Leading Edge Commonplace; Ferrucci shares Building Watson - An Overview of the DeepQA Project; and Siegel presents Persuasion by the Numbers: Optimize Marketing Influence by Predicting It.
Following the tremendous success and record registrations at PAW San Francisco, New York is sure to once again break records as the largest cross-vendor predictive analytics event ever. Join us October 16-21 at the Hilton New York. View the full agenda and see all the sessions available.
Predictive Analytics World is part of Data Driven Business Week, which includes the Marketing Optimization Summit, Text Analytics World, Conversion Conference, GAUGE, and the Internet Marketing Conference.
Predictive Analytics World is sponsored by IBM, SAS, Deloitte, StatSoft, Mu Sigma, Tibco, Salford Systems, Kxen, Zementis, Informs, AnalyticBridge, Customer Think, Improvement and Innovation.com, Predictive Analytics.org, Toolbox.com, OPSEOs, Visibility, and Blog Partners.
About Rising Media
Rising Media is a global events producer excelling in Internet and technology-related conferences and exhibitions. Rising Media produced events include Data Driven Business Week, eMetrics Marketing Optimization Summit, Conversion Conference, GAUGE, Search Marketing Expo, Predictive Analytics World, Text Analytics World, Internet Marketing Conference, Social Media Economy Days, Web Effectiveness Conference and Building Business Capability in the US, Canada, UK, France, Germany, Sweden, Finland and Australia.
Rising Media events provide cutting-edge, practical knowledge for business professionals to improve their day-to-day effectiveness, driving higher returns for their organizations. Attendees learn from leading experts and share knowledge with each other, as well as interacting with innovative vendors in the space. Each event brings together the best, the brightest and the visionary, creating a forum for insight, energetic exchange and informed purchasing.
###