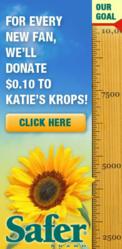 Katie wants to help those in need and we are extremely excited to be a part of this tremendous organic movement
Lititz, PA (PRWEB) August 12, 2011
"Partnering with an amazing organization like Katie's Krops fits right into our beliefs as a company," explained Justin Emig, Safer® Brand category development associate. "We are always striving to provide consumers with the tools to grow their own organic produce and show everyone how easy it is to care for your own garden."
Safer Brand has launched a campaign on the Safer® Brand Facebook Page to donate $0.10 to Katie's Krops for each new 'like' they receive to their community.
The ultimate goal of Katie is to support gardens in every state in the United States and help fellow children's organizations that look to feed the hungry. Katie has donated thousands of pounds of fresh produce to organizations that help people in need.
"Katie wants to help those in need and we are extremely excited to be a part of this tremendous organic movement," stated Justin Emig, Safer® Brand category development associate.
For more information, please visit:
• Donate to Katie's Krops Now
• Check Out What Katie is All About!
• Shop Safer Brand Now
• Follow us on Facebook
About Safer Brand
We are Safer® brand, Concern®, and Victor Poison-Free® - three strong brands recognized as world leaders in the organic pest control, organic plant disease control and organic gardening categories! We offer the broadest and deepest selection of quality organic bug control and plant disease control products at competitive prices. Our organic gardening products are targeted to meet the varying needs of you, the consumer! So, whether you are an experienced gardener or novice, there is a product to fit each and every situation.
Safer Brand, has been trusted by consumers since 1976 and is a division of the Woodstream Corporation located in Pennsylvania.
About Woodstream Corp:
Woodstream Corporation is a long-standing, privately held company and a leading manufacturer and marketer of quality-branded wild bird feeders, rodent control products, caring control products for pets and wildlife and organic solutions for lawns & gardens
###