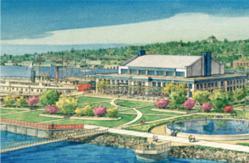 "There's something about Seattle that has made it an unusually good place to innovate, and the MOHAI Center for Innovation will help Seattle continue on that course..." - Jeff Bezos, Amazon.com Founder and CEO
Seattle, WA (PRWEB) August 17, 2011
The Museum of History & Industry (MOHAI) today announced that it has received a generous gift of $10 million from Jeff Bezos, the founder and chief executive officer of Seattle-based Amazon.com. The grant will be used to establish the "Center for Innovation" at the new MOHAI opening in late fall of 2012 in the historic Naval Reserve Building (Armory) at Lake Union Park, a few blocks from the new Amazon.com campus in the South Lake Union neighborhood. Bezos' contribution to MOHAI is the largest in the museum's 59-year history.
"Look at the disproportionate number of extraordinary organizations founded in Seattle – Microsoft, Costco, Boeing, Fred Hutch, PACCAR—even UPS was founded here. These companies and their innovations have had a big impact on Seattle, the country, and the world," said Jeff Bezos, Amazon.com Founder and CEO. "There's something about Seattle that has made it an unusually good place to innovate, and the MOHAI Center for Innovation will help Seattle continue on that course by showcasing and teaching how industrial innovation can play an important role in human advancement. New treatments, affordable flight, a computer on every desk -- the core activities of these Seattle organizations have created benefit for people at home and around the world."
"We are deeply grateful for the support and inspiration from Jeff Bezos to open the new MOHAI Center for Innovation," said Leonard Garfield, Executive Director of the Museum of History & Industry. "Jeff is one of the leading visionaries and inventors of our time, and we are fortunate to have him in our own backyard, helping continue Seattle's renown for large-scale innovation. This new initiative is perfectly aligned with the Museum of History & Industry's mission and we look forward to telling the story of how Seattle companies have played a role in human advancement and to educating thousands of young people and adults alike in the years to come on the past, present, and future of innovation in Seattle."
About MOHAI
MOHAI has grown to become the largest private heritage organization in the State of Washington, by collecting, preserving, and presenting the rich history of the Pacific Northwest. MOHAI attracts more than 60,000 visitors annually from the area and beyond, including thousands of school children. Its engaging exhibits and programs, collection of nearly 4 million historic artifacts, archives and photographs, and its award-winning educational programs have created a truly unique appreciation for the Northwest's diverse cultural, social and economic history. In 2012, MOHAI opens a new museum in the historic Naval Reserve Armory at Lake Union Park. The new museum at Lake Union Park will expand MOHAI's exhibit space and feature thousands of artifacts and images related to the history of the region as well as galleries for national traveling exhibits and a waterfront café for museum and park visitors. MOHAI will also provide a full range of educational and community meeting spaces at the new museum. The museum is expected to attract over 120,000 visitors a year, including more than 15,000 students and their teachers.
###