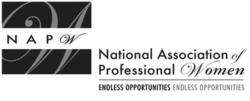 This is just a small sample of the information that was provided, but anyone can learn more at www.sba.gov" "...There are also links provided through the NAPW Business Resource Center, which can be found on napw.com.
Garden City, NY (PRWEB) August 18, 2011
The NAPW Sacramento Local Chapter has two meetings, both a lunch and a dinner meeting, each month in order to accommodate the busy schedules of the members. While both meetings have the same agenda and speaker, it is interesting that this month several people came both times. Obviously they enjoyed the speaker and the atmosphere of the group to attend twice! For the sake of simplicity, both meetings have been folded into one in these minutes.
Sharon opened the meetings by welcoming everyone, then briefly speaking about the NAPW. She then talked about a local event in which the chapter was invited to participate - Sacramento's 11th Annual Diversity Employment Day City Career Fair. The event was held on July 20th at the Lion's Gate Hotel in North Highlands, and NAPW members participated with many other local groups. The invitation was extended because of the very successful participation of local chapters in other cities, and Sacramento Chapter's participation exceeded original expectations. Thanks to the warm welcome and information extended to event participants by Marissa Eldreth, Margie Dikit, Linda Melody, June Azevedo, and Sharon Darrow, a total of 94 women signed up asking for additional information about NAPW.
Individual introductions of all the women attending the meeting were conducted.
Carol Siegner is a travel professional with Ships and Trips Travel. She specializes in booking cruises, but also does land trips, and some corporate. She is now working on two cruises for next year. One will be a wine cruise with Kendall Jackson. The other will be an Alaskan cruise in September 2012.
June Azevedo, owner of Azevedo Print & Design, takes clients' suggestions and puts them in letterhead, envelopes, business cards, brochures, or whatever else is needed.
Rebecca Ward, owner of Rebecca Ward Design, is an interior designer doing both residential and commercial design, but specializing in residential. She can turn a house into a home, and a reflection of her client's personality. "So many people now are staying in their houses instead of moving," she said. "It is truly worth it to take the time and invest in your house and make it what you always wanted it to be."
Leigh Stepp is an attorney in Sacramento specializing in general civil litigation. She works for insurance companies, private employers, and businesses covering a wide variety of types of claims. She handles car accidents, slip and falls, construction, and general business issues.
Andrea Newhouse is the Director of Aquatic Services at Easter Seals in the Sacramento Arden area. They have a warm water therapy pool there for adults 18 years and older. Patients just need a doctor's prescription to use the pool.
Marissa Eldreth is the owner of both BizWiz Consulting and Marketing Solutions and a magazine called City Connect International. They just finished their International Festival for Roseville, and Marissa thanked everyone who participated or attended and promised that next year's festival will be even better! Marissa's focusing on turning her magazine around so that it can be put into local hotel lobbies, featuring international cuisine and destinations as well as day trips in the Sacramento area and surrounding counties. She is also very excited about bringing different companies to the international level, and has two products in the Philippines and brought a guest to talk about the third product that will be starting in the Philippines and India. Marissa brought a guest, Margie, who is working with her on the new product.
Margie Dikit, Marissa's guest and colleague, has been back in the states for only a week. She was in the Philippines setting up a customer support service, and a development center in India for nearly six months. The new business is in web conferencing internet technology, similar to Webex and GoToMeeting, but utilizing a prepaid conference card. This means that for a very minimal amount anyone can become a dealer, distributor, or retailer. This program is a business solution because it eliminates the need and cost of traveling, and is also an event solution for things like weddings or funerals to provide the opportunity of sharing without the travel.
Helen Dang works in Real Estate, but in two different capacities. She is a professional in traditional real estate transactions, primarily with investors looking to purchase properties in Sacramento. She also works for a developer, international as well as domestic, with two fabulous projects. One is in San Felipe, Baja, Mexico, and the other is in Arizona. They are promoting lots right now, for people looking for transition properties, such as legacy, vacation, or retirement properties. She is currently organizing a complimentary three-day/two-night tour for the Arizona project, which will take place in the second week of August.
Sharon Darrow, owner of Travel ID Cards, was happy to announce a new product that should be available in about a month. The new product will actually be a renewable service to help people with items that might be lost or stolen. The product will include numerous small adhesivelabels that can be attached to electronic items, purses, briefcases, suitcases, wallets, etc., that contain a website and 32-digit code. The finder of your item just contacts the website and enters your code, which triggers an email to you with the name and email address to contact to get your stuff back. The key is the code, so that sensitive information is never collected or kept for you or the finder, but the mechanism permits you to get your item back. Sharon was very excited about the new product, but reminded everyone that she is still your source for plastic ID and/or security badges of any kind.
Sarah Kennedy is a permanent cosmetic artist. One of her passions is making people feel beautiful and making them look really great. She works in a salon in Fair Oaks, and is currently trying to work with a medical doctor in Grass Valley as well. Her goals are headed toward the medical realm, as well as the aesthetics route. Sarah's website is http://www.finelinespermanentcosmetics.com, and she also invited everyone to follow her on her Facebook page as well.
Dana Jacques is an OB-GYN physician who moved to the area in June of 2010, and has been building her practice. She was excited about moving her practice to a new location in Roseville where she will be on her own. Dana was also excited about passing her examination to become a certified menopause practitioner. She was also excited to announce her new website, http://www.rosevilleobgyn.com/, which really talks about her philosophy of patient care as well as her practice.
Caroline Lafler attended for her first time as a guest. Caroline was in commercial real estate for 14 years until the economy sank and took her business with it. She needed to find something new, and by accident found a nutrition club in Roseville, called Wellness Depot. She started on the product, a delicious nutritious smoothie, and not only lost weight but eliminated troubling bouts of IBS (irritable bowel syndrome). She feels better than she ever has. Caroline brought vouchers for everyone to come by for a free aloe tea and shake, and invited everyone to check out the website at http://www.rosevillewellnessdepot.com/About-Us.html.
Sue Clark is a literary agent who has had her literary agency for about 37 years. She is also a writer who does ghost writing or any type of writing that someone needs. She is also an editor with a small publishing company called ShortReads Press. One of her ghost written books received both the 2008 Gold Medallion Award from Sierra Dreams Press and the 2006 President's Award for a book about the Vietnam War. Sue is also teaches fiction writing, poetry, non-fiction writing, as well as management classes for the hospitality industry at a vocational school in Loomis.
Terry Burke Maxwell is an author and publisher, with a background in education and technical writing. Terry has two separate arms to her publishing. One is educational, and the other is a new imprint called Earth Patch Press. Terry extended thanks to June Azevedo for help in finding a great printer for her books, a binder, and great website person.
Diana Borroel is a financial advisor with the Principal Financial Group and has 23 years experience in the industry. Diana started out by asking how many people have a junk drawer in their home, and then asked if their financial situations might look like that junk drawer. Her job is to help her clients organize that financial mess. First, she helps them set their goals, find out where they are currently, where they want to go, and how she can help them get there. There are always obstacles to preparing a financial plan, but the number one obstacle is procrastination. She helps her clients put together a plan, and then acts as the catalyst to help them complete that plan. She helps both individuals and businesses, since many business owners haven't planned adequately for their retirement.
Mary Collins, founder of Cancer Vaccines Now, was very excited to announce the formation of a partnership between her foundation and the group Women of Faith Now. The group is huge and draws 17,000 people to events at what used to be Arco Arena. They asked Mary to join with them for a planned event. It will be held in mid-October, and Mary will be providing more details as the date gets closer. Mary reminded the group that the goal for her foundation is to help knock out cancer in this lifetime. The mission is to locate the over 8 million cancer survivors and connect them with immunologists who know how to use the antibodies that cancer survivors develop to create vaccines, and then match them with cancer patients. They are creating a directory for that purpose.
The Small Business Administration, or SBA, as it is known, was very well represented by speakers, Essie Gilchrist and Gilda Perez. The SBA is a federal agency that was established in 1953 to help aid and protect small businesses. It is an independent agency, and the local office serves 21 counties with a variety of different resources. Many people think of the SBA as just a source of business loans, but they actually provide a wide variety of services, including:

Small Business Development Centers (SBDC), which offer direct counseling and education for small businesses
SCORE, another educational resource for small businesses composed of retired and current business professionals
Insuring business loans that are granted and funded by banks. The SBA even provides a list of lenders that are offering these types of loans, and can assist a business in properly preparing their application for the best possibility of success.
Helping small businesses obtain a fair share of government contracts and subcontracts, including special programs for women owned businesses
"This is just a small sample of the information that was provided, but anyone wishing to learn more can contact the SBA at http://www.sba.gov ," Sharon said.
"There are also links to SBA.gov provided through the new NAPW Business Resource Center, which can be found under Career Enhancement on napw.com."
The Sacramento July chapter meetings were full of good information and great networking. For additional information regarding the NAPW Sacramento Local Chapter and/or NAPW, please visit http://www.napw.com.
Follow NAPW on Facebook and Twitter.
###