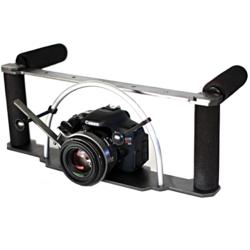 This is the future of follow focusing.
Scottsdale, AZ (PRWEB) August 19, 2011
"This is the future of follow focusing," says Senior Executive of Arch Rig, Craig McMahon. Created from a production company that was fed up with the overpriced and inefficient camera focusing accessories already available, Arch Rig has seemed to find a solution with their newly developed device. Here's the difference: This rig no longer uses cumbersome gears and stops relying on focus pullers.
Arch Rig utilizes a patent pending, circular arch that surrounds the lens' circumference and allows for locking focal points. Cinematographers can finally regain control over their cameras without relying on assistants to pull focus. Not only can the cinematographer adjust their own focus on the fly, but they can also lock in focus points or write them directly on the Arch itself with the use of a Dry-erase pen. In addition, typical gear driven follow focus systems are operated and viewed from the blind side of the camera and completely out of the line-of-sight of the subject. At Arch Rig, they seem to think it makes perfect sense to pull focus while looking in the same direction of the actors- and the action.
The Arch Rig is designed to work with the Canon T3i, T2i, 60D, 7D, 5D, Nikon D90, Panasonic GH2 and others of similar size. It is being offered for a limited time price of only $359.00 (without the camera and lens). Although the rig can work with many zoom lenses, it is primarily designed for fix-focal (Prime) type lenses.
The company emphasizes "in-line focusing." Arch Rig's McMahon tells it like this, "Camera companies, like Canon, worked very hard to make Single Lens Reflex (point-and-shoot) possible, and thank goodness they didn't put the viewfinder on the side of the camera! Can you imagine the nightmare that would be? The Arch Rig keeps the operator in the same Single Lens Reflex point-and-shoot tradition."
Operating the new system is like a breath of fresh air. Simply focus on the object, tighten the arch lock, and repeat the process for the second object. The folks at Arch Rig have challenged focus pullers to compete with the speed and accuracy of the lever locks on their new rig and they get the same positive response every time: "Where can I get one of these?"
###