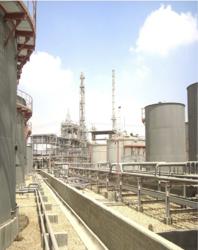 This was a once-in-a-lifetime opportunity for Noval International to own an oil company given the current economic and political climate of Egypt. I am pleased to begin this venture and have high aspirations for the company's future.
--Victorino Noval
(PRWEB) August 17, 2011
Victorino Noval, the philanthropist who established the Victorino Noval Foundation and the chairman of Noval International, has acquired the majority stake in Egyptian Arab Trading Company (EATCO), a leader in petroleum and other natural resource projects and acquisitions in Egypt. EATCO's key holding is a majority interest in Misr Canada Company (MCL), a petroleum production plant currently valued at more than $1 billon and with projected operating income of more than $300 million annually.
As part of the purchase agreement, Victorino Noval will acquire 51 percent of the shares of MCL from EATCO. Other EATCO investments include a partnership with Spanish Egyptian Gas Company and shares in its $5 billion revenue from the export of natural gas, as well as majority ownership of Gulf of Suez Petrochemicals Company (GSP), a company converting gas to methanol.
Following the signing of the purchase agreement, Victorino Noval said, "This was a once-in-a-lifetime opportunity for Noval International to own an oil company given the current economic and political climate of Egypt. Egypt is a beautiful country, and due to the many changes taking place there, is filled with great opportunities. I am pleased to begin this venture and have high aspirations for the company's future."
The state-of-the-art production facility now controlled by Victorino Noval occupies nearly 560,000 square feet in Egypt's Ramadan City, a new satellite city located just 37 miles east of Cairo. The city enjoys special investment benefits, including exemption from both real estate and income taxes for the first 10 years of the plant's operation. The facility will focus on collecting spent oil from the local market, re-refining the spent oil, blending base oil and producing finished lubricants, importing used oil and/or ingredients required for blending finished lubricants from the foreign market, and re-refining petroleum products.
The production facility consists of two plants; a re-refining plant and a blending plant. The re-refining plant will produce base stocks equal to virgin lube by using American UOP Technology, the leading re-refining process in the world. The plant's production capacity is estimated at 25,000 metric tons per year.
The blending plant will produce finished lubricant in accordance with international standards such as API and ISO. Its products will include gasoline engine oils, diesel oils, automotive gear oils and industrial lubricants, with an estimated output of 20,000 metric tons each year.
Members of Victorino Noval's staff also expressed their enthusiasm for the business transaction. Samir El Mahallawy, a board member of Noval International and native of Egypt said, "I am very happy to be involved as a shareholder in this great company in my country  of origin. Since I left Egypt when I was 17 years old, I have spent more than 20 years in the United States and around the world expanding my business. During that time, my main goal was to bring my expertise and business success back to Egypt in order to contribute to my country."
About The Victorino Noval Foundation
The Victorino Noval Foundation works to promote economic trade and cultural exchange between Cuba and the United States. The foundation was created by Victorino Noval in memory of his father, Victorino Noval, Sr., a Spanish-born businessman who lived in Cuba for much of his life. Under Noval's leadership, the Victorino Noval Foundation has also been a supporter of the Children's Trust Fund and was a recent sponsor of the "Spark of Love" toy drive in Beverly Hills. For more information, please visit the Victorino Noval Foundation at VictorinoNovalFoundation.com or VictorinoNovalNews.com.
###