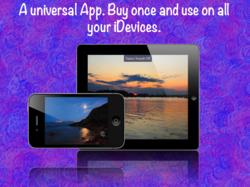 An iPhone App for Sleep? How does that work? It works exactly like having a skilled therapist talk you through a guided program to induce sleep
Dublin, Ireland (PRWEB) August 18, 2011
Each day, most people are stimulated by the technology that has become part of every day life. Emails, calls, social networking, texts and reading / watching the news online. There has been much coverage stating that daily interaction with technology, that is so heavily relied on, can leave people over stimulated and affect the quality of sleep, even leading to insomnia. Rather than turn away from this reliance on technology, Dr Elaine Ryan decided to embrace the technology that is part of every day life and use it to induce relaxation, to help calm down the mind, and even help to induce sleep by creating a new iPhone App.
In her private psychology practice, the majority of Elaine's work is helping people deal with stress; not being able to switch off after the day's work has ended. This inability to relax and not being able to quiet the mind, often disturbs the individual's ability to fall asleep and stay asleep. Traditional methods to treat insomnia include various relaxation methods, medication, muscle relaxation and meditation to quiet the mind. Elaine accepts that reliance on iPhones, iPads and technology is part of how people now interact in the world. Furthermore, Elaine herself relies on these platforms in order for her own practice to run smoothly.
Elaine considered the factors that help induce sleep.
The ability to relax, to induce deep relaxation in the body.
The ability to quieten the mind.
When the body is deeply relaxed, the mind quickly follows, allowing the endless chatter of thoughts to quiet. With this in mind, she decided to create a guided relaxation program to relax the body and mind and incorporate it into the technology that is already in everyone's lives. Accepting that technology can over stimulate, and that it is part of normal life, she decided to use the same technology to induce deep relaxation and promote sleep.
Deep Sleep with Dr Elaine Ryan is a universal App that operates on both iPhone and iPad.
For years, psychologists have been using guided meditations to relax the muscles and quiet the mind. Originally this was done in the clinician's office. Eventually relaxation methods were made available on CD format and it has become common practice for the average person to use relaxation CD's. Elaine wanted relaxation methods to treat insomnia to be readily available to those who needed them. For those individuals who rely heavily on iPhones and iPads in their daily lives, it made sense then, to provide guided relaxation and sleep programs on the devices that are a useful part of daily life.
An iPhone iPad App for Sleep? How does that work? According to Dr Ryan, "It works exactly like having a skilled therapist talk you through a guided program, that firstly relaxes your muscles, secondly quiets your mind, and finally guides you into sleep." What makes it different, is that it uses the technology available by incorporating white noise in the form of nature sounds. Nature sounds have long been associated with relaxation and help to quiet the mind. Understanding that everyone is unique and have different preferences and tastes, using the iPhone and iPad platform allowed customization that is not possible in the clinician's office or on CD. People now expect choice and immediacy. Elaine readily accepts that immediacy can cause problems and it is this exact fact that drove her to create an App. The user wants results fast in an App. Paradoxically they get the results, but with repeated practice, their need for immediacy should dissipate as they start to feel the calmness filter into their daily lives.
Giving users what they need, in a format that is acceptable to them, encourages people to use tried and tested ways to treat insomnia People enjoy using technology, and embracing this fact, allowed Elaine to produce accepted forms of relaxation and methods to treat insomnia, to be updated into a format that is readily accepted by the people who possibly need it most.
More information can be found on http://www.livehappy.ie and Elaine, an avid social media user, welcomes and encourages feedback on her facebook page http://www.facebook.com/drelaineryan
###