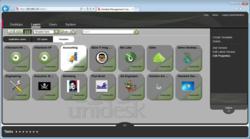 Customers from a cross-section of industries including engineering, healthcare, education, state government, and financial services will be present in Unidesk booth #555
Marlborough, Mass., (PRWEB) August 22, 2011
VMworld 2011 attendees can see the latest version of Unidesk® virtual desktop management software and learn from Unidesk customers how the combination of Unidesk and VMware View™ reduces the cost of desktop operations, simplifies application delivery, and provides fully customizable virtual desktops that meet the needs of all workers. Six Unidesk-VMware customers will be present in Unidesk booth #555 at various times Aug. 29- Sept. 1 at The Venetian in Las Vegas to explain how Unidesk desktop layering technology is playing a key role in the success of their Virtual Desktop Infrastructure (VDI) projects.
"We're delighted that Winzler & Kelly, Crownpoint Indian Hospital, Menlo College, Farmers Hail Mutual Insurance, Thomco Insurance, and State of Ohio Department of Developmental Disabilities will join the Unidesk team at VMworld this year," said Tom Rose, Unidesk Chief Marketing Officer. "Many organizations want to implement virtual desktops, but are stalled by use case limitations, unclear ROI, or image management and application delivery complexities. At VMworld, attendees will be able to learn directly from our customers how these VDI challenges can now be easily overcome with one, comprehensive management solution."
By assembling customers from a cross-section of industries including engineering, healthcare, education, state government, and financial services, Unidesk is making booth #555 the place to get answers to real-world VDI issues such as: delivering virtual desktops that can support knowledge workers, power users, and other persistent use cases; sustaining all desktop customizations complete with profile settings and user-installed applications; and justifying VDI projects through operational cost savings. Additionally, attendees will learn how to: deliver the many applications that cannot be easily virtualized; reduce gold image sprawl and minimize patching cost and complexity; repair desktop software issues without costly Level 2 and 3 escalations; reduce VDI storage capacity requirements; and deliver the IOPS needed to ensure an acceptable user experience.
Unidesk's customers will emphasize the powerful roles that both end users and IT administrators play in the need for virtual desktops that are completely customizable, but as easy to manage and support as locked down PCs. Unidesk layering technology uniquely satisfies both requirements by preserving all user customizations, including user-installed applications, while enabling administrators to provision and update all virtual desktops from a single set of shared operating system and application layers.
Add a Unidesk customer to your schedule:
Tues., Aug 30:
Jason Ramsay, IT Director at engineering firm Winzler & Kelly 11am-12pm PT
Lyle Benally, Information Technologist, Crownpoint Indian Hospital 1-2pm PT
Raechelle Clemmons, CIO, Menlo College 3-4pm PT
Wed.,Aug. 31:
Dru Lesnick, Technical Services Manager, Farmers Mutual Hail Insurance Company 9:30-10:30am PT
Terry Myers, Network Specialist, Thomco Insurance 1-2pm PT
Kipp Bertke, Manager, Infrastructure and Operations, State of Ohio Department of Developmental Disabilities 3-4pm PT
New Unidesk Features Make Creating, Patching, and Personalizing Desktops Even Easier
At VMworld 2011, Unidesk will also demonstrate the latest version of its VDI provisioning and management platform, with a host of new features that make creating, patching, and personalizing desktops and delivering enterprise-wide, departmental, and user-installed applications even easier.

Templates: Accelerate desktop provisioning, patch deployment, and application delivery with Templates containing pre-selected combinations of the same operating system and application layers. Provision 200 desktops from the Engineering template with Windows 7, Office 2010, Firefox, and AutoCAD layers, then create 100 desktops from the Marketing template with Windows 7, Office 2010, Firefox, Adobe Premiere, and Skype layers. Patch the Windows 7 layer once, and all 300 desktops get updated. Keep track of your templates with built-in version control.
Layer Visualization: See what desktops will look like as they're being dynamically composed from layers with this graphical addition to the Create and Edit Desktop wizards.
Role-based management: Enable service desk staff to resolve common desktop software conflicts by rolling layers back to previous versions, while restricting access to more advanced functionality.
VMware integration: Improve desktop availability with support for hosting Unidesk desktops on VMware vSphere® clusters and support for redundant VMware View servers for load balancing configurations. Eliminate the need to switch interfaces and search for virtual machines in VMware vCenter to test desktop configuration changes by opening the vCenter console for any desktop or installation virtual machine directly from the Unidesk management interface.
Desktop Search: Accelerate departmental and ad hoc application delivery with enhanced "Google®-like" search. Type in any directory attribute, such as Location, Department, Last Name, Phone Number, Organizational Unit, or any Unidesk object, such as CachePoint virtual appliance name, Template name, or Layer name and the desktop view is instantly filtered to show only the desktops that match. Application layers can be added or removed or patches can be applied to all filtered desktops in one operation.
About Unidesk
Unidesk® Corporation (http://www.unidesk.com) enables customers to centralize more desktops on data center servers and realize the full potential of Virtual Desktop Infrastructure (VDI). Unidesk's patent-pending desktop layering technology works with VDI access solutions such as VMware View™ and Citrix® XenDesktop® to sustain all desktop customizations for end users, while enabling IT to provision and patch all desktops from a single set of shared operating system and application images. By creating uniquely personal, storage-efficient, and easy-to-manage persistent desktops on VMware infrastructure that can satisfy almost any use case, Unidesk VDI management software reduces desktop operations costs up to 30%, cuts data center storage costs for VDI up to 70%, and fosters a more productive, agile workforce. Unidesk Corp. is a privately-held company with headquarters in Marlborough, Mass, USA
VMware, VMware View, and VMware vSphere are registered trademarks and/or trademarks of VMware, Inc. in the United States and/or other jurisdictions. Unidesk® is a registered trademark of Unidesk Corporation. All other trademarks and registered trademarks are property of their respective owners.
# # #