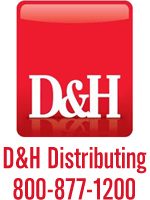 "Hackers have shifted their sights to SMBs, where the smaller you are, the harder you fall" (Source: Wall Street Journal, July 21, 2011)
Bedford,MA (PRWEB) August 22, 2011
NetClarity, Inc., the leading provider of Next Generation Network Access Control technology in the marketplace today announced that NACwall appliances are now available to SMBs across North America through a partnership with D&H, the leading provider of technology products and services to small to medium size businesses (SMBs). NACwall appliances allow SMB customers to protect their networks with easy to use and deploy state of the art technology that provides network security and IT protection at an affordable price SMB.
According to PrivacyRights.org and leading IT security researchers, the SMB market has become the #1 attack vector of cyber criminals, hackers and malware attacks.
While firewalls protect networks from the outside-in, most risk has shifted to the inside-out. In fact, over 80% of successful attacks happen behind firewalls and over 95% of cyber criminals and new malware exploit Common Vulnerabilities and Exposures (see: http://nvd.nist.gov). The Next Generation NACwall Appliances and Cloud Updates Service now enable SMB customers to harden their networks from the inside-out, stopping new malware attacks, blocking rogue devices and malicious access, automatically.
"We're very excited to be working with D&H and to now have the ability to serve SMB customers across North America with a solution to their growing internal network security risk. The timing of our relationship with D&H is perfect and will capitalize on our recently announced NACWall NANO solution, the first-ever SMB NAC solution that is affordable by every SMB." stated Hal Charnley, President/CEO of NetClarity.
"We are proud help support NetClarity's growth in the SMB market," stated Rob Eby, vice president of purchasing at D&H Distributing. "The addition of NetClarity to our portfolio of leading IT and network security products provides SMB customers with easier access to the products they need in order to better protect their networks. Historically, one of the largest impediments to the NAC market has been price. NetClarity has finally done what many others have not -- they have brought the price of Network Access Control in line with that of firewalls."
About NetClarity, Inc.
NetClarity is the only provider of Made in the USA, Next Generation Network Access Control (NAC) technology and products in the marketplace today. We have been developing patented intrusion defense technology using industry standard protocols, since 2003. NetClarity sells a scalable suite of industry standard rack-mountable and wall-mountable hardware appliances, known as "NACwalls", through channel partners and OEMs worldwide. NetClarity is headquartered in Bedford, MA. For more information, visit us at http://www.netclarity.net.
About D&H Distributing
As the nation's leading technology distributor, D&H provides a wealth of resources to empower solution providers and consultants, delivering a broad selection of SMB categories, products and applications. The company's offerings span server and infrastructure, SOHO and mobile applications, consumer electronics and gaming. D&H's multi-market expertise, account-dedicated sales teams, sterling service and flexible financing options are unmatched in the industry.
With an impressive 93-year history serving as a trusted advisor to the reseller channel, D&H has been able to consistently reinvent itself based upon changing market conditions. The company prides itself on creating business partnerships with an astute focus on ease-of-doing-business, relationships, value, performance and service.
D&H was recently named Cisco's Worldwide Small Business Distributor of the Year for 2010, won the Microsoft Licensing Operational Excellence Award seven years running and was named Microsoft's OEM Distributor of the Year. The company ships out of five separate locations in North America, including its US headquarters in Harrisburg and its Canadian headquarters in Mississauga, Ontario. Additional US warehouses are located in Atlanta, GA; Chicago, IL; and Fresno, CA. Call D&H toll-free at (800) 340-1001 or visit http://www.dandh.com.
CVE is a trademark of The Mitre Corporation. NACwall, EasyNAC and Inside-Out Network Security are trademarks of NetClarity, Inc. All other company and product names may be trademarks of the respective companies with which they are associated.
Press Contact: Sarah Ledder, Marketing Manager, sarahledder(at)netclarity(dot)net
Toll Free: 1-800-874-2133 x2010 or 781-791-9497 Ext. 2010
# # #