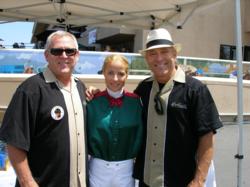 "Sweat, mud and sand are constant elements that tend to stick to my glasses," said Sutherland. "But once I started using Brilliant Lenses, these problems became virtually non-existent and a big advantage for me."
San Clemente, CA (PRWEB) August 21, 2011
Black Diamond the manufacturer of Brilliant Lenses a superior lens cleaner and lens protector, has announced its sponsorship of renowned thoroughbred horse racing jockey, Chantal Sutherland. Sutherland recently raced in a highly-publicized match race in Del Mar titled, "Battle of the Exes Match Race."
Brilliant Lenses provides athletes like Sutherland the ability to keep their glasses clean while racing so they can have crystal clear vision - which is crucial for extreme performance. This revolutionary new cleaner for all glass and plastic lenses is formulated with a polymer additive called SR-8 that creates an invisible, yet durable barrier that leaves lenses scratch resistant, repels water spots and is anti-static. It is an alcohol free and ammonia free lens cleaner.
"Athletes are adopting our lens cleaner quickly," said Denny Morrow, Vice President of Black Diamond. "Performance in their athletic wear is critical – it can mean the difference of winning versus losing – especially when it comes to their vision."
Clean and protected lenses are a definite must-have for professional jockeys who rely on their sight to cue them to minute details of the race. Brilliant lenses will clean goggles and sunglass lenses for perfect clarity and lens protection.
"Sweat, mud and sand are constant elements that tend to stick to my glasses," said Sutherland. "But once I started using Brilliant Lenses, these problems became virtually non-existent and a big advantage for me."
Athletes aren't the only ones who benefit from Brilliant Lenses. Spectators, fans, and anyone wanting brilliant clarity through their lenses will find cleaning eyeglasses with Brilliant Lenses the only solution. This lens cleaner is also ideal as a camera lens cleaner.
About Black Diamond Stoneworks:
Black Diamond products including Brilliant Lenses are available online and at retailers throughout the U.S. More information can be found at http://www.blackdiamondcleaners.com.
###