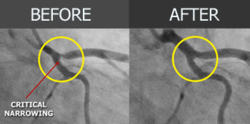 After 5 months, a repeat MRI of Sheila's heart showed that her heart was no longer enlarged and was pumping normally. Her heart was essentially healed!
Houston, TX (PRWEB) August 24, 2011
Sheila Lewis, a patient of Dr Baxter Montgomery, reversed her heart disease through nutritional intervention. Within five and a half months, she went from a condition of congestive heart failure and being on the brink of sudden cardiac arrest to having a normal functioning heart.
While undergoing an evaluation for lap band surgery for weight loss, Lewis discovered she had an abnormal EKG. She sought out Dr. Baxter Montgomery to undergo a preoperative evaluation for her surgery. Dr Montgomery performed a number of tests to evaluate her symptoms of occasional chest discomfort and fatigue. An ultrasound of her heart (echocardiogram) revealed that it was pumping at 20% to 25% (normal is 50% to 70%), a finding consistent with congestive heart failure. Dr Montgomery performed an angiogram of her heart that showed a severe narrowing in one of her major coronary arteries (the arteries that feed blood to the heart). An MRI of her heart showed that it was enlarged and significantly weakened. Additionally, she showed signs of being pre-diabetic.
Dr Montgomery discussed various options such as open heart surgery or angioplasty with a stent placement. He also stated that she would need a defibrillator implant if her heart's pumping function did not improve. However, Dr Montgomery also gave Mrs. Lewis another option which was quite unique in clinical medicine. He offered to help her heal her heart naturally with his special nutritional detoxification program.
Over the years, Dr Montgomery has developed a means of treating heart disease, diabetes, obesity and other chronic illnesses naturally through his nutritional detoxification program. He has helped many individuals discontinue medications and avoid surgeries for years utilizing his various nutritional programs such as his diabetes diet plan, his heart disease diet and more.
Mrs. Lewis was no exception, for after only five and a half months she was feeling much more energetic. More importantly, a repeat heart angiogram showed that the life threatening critical narrowing in her major coronary heart artery was gone. Also, a repeat MRI of her heart showed that her heart was no longer enlarged and was pumping normally (an increase from 25% to 50% pumping function). Hence, her heart was essentially healed! Initially she was on some medications, but she was weaned off of most of them. The previous signs of congestive heart failure are no longer present. According to Dr. Montgomery, the success of her recovery was primarily due to the change in her eating habits.
Mrs. Lewis feels that she has been given a new lease on life. She now has a sense of mission to share what she has learned with others so that they may benefit from this lifestyle change.
Montgomery Heart & Wellness is a cardiology practice and wellness center in Houston that offers a comprehensive approach to help people transform from conditions of sickness to wellness and eventually optimal health. Dr. Baxter Montgomery, the founder, is a Board Certified Cardiologist and Cardiac Electrophysiologist with years of experience in the latest state-of-the-art medical practices and nutritional health. He is a Clinical Assistant Professor of Medicine in the Division of Cardiology at the University of Texas and a Fellow of the American College of Cardiology. In addition to running Montgomery Heart & Wellness, he manages arrhythmias and coronary disease, performs angiographies, defibrillator implants, and other hospital procedures, and teaches young physicians.
###