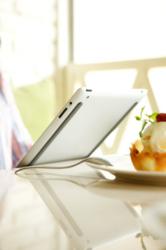 The most basic and versatile protection for the iPad. Made as simple as possilbe, but not simpler.
Pasadena, CA (PRWEB) August 22, 2011
Bluelounge, the award-winning international design studio known for sleek, functional, design-forward cable management and home/office organization products, today announced the market-wide availability of Kicks, easy to use protective rubber pads for iPad. Kicks represents the latest in a series of sleek, innovative Apple related products from Bluelounge, designed specifically for Apple iPad and useful for other market wide tablets.
Kicks are small, thin, rubber strips that prevent the iPad from damage and scratches. The protective rails run discreetly along the underside, slightly elevating the device from the surface, providing minimal safekeeping for your valuable life tool. Kicks uses a 3M damage-free adhesive that will not mark your iPad. Easy to apply and strong enough to remain securely in place for everyday use. Reposition and replace at-will without leaving permanent marks.
"People are continuously seeking ways to protect their iPads and tablets without compromising the elegant design of the product," said Dominic Symons, Bluelounge Principal and Creative Director. "A little protection goes a long way to avoid scratches, slipping and damage. A simple solution like Kicks will only enhance the versatility of the device it's protecting, not detract. Proud iPad owners can use their hardware confidentially while enjoying the beauty and elegance of the original design. No bulk or weight added, only simple inspiration!"
Price and availability
The MSRP for Kicks is $11.95, include 2 sets (4 Kicks).
Available now on the Company's website at http://www.bluelounge.com/products/kicks/ and at retailers worldwide.
About Bluelounge
Bluelounge, founded in 1999 by designers Dominic Symons and Melissa Sunjaya, is a multidisciplinary design studio that creates a synergy of product, graphic, interactive design and original illustration. Bluelounge products are distributed through over 100 U.S. locations and 35 international distributors, promotional agents and licensees. Bluelounge design studios and administrative offices are in both Los Angeles and Jakarta, Indonesia. In addition to their own branded products, Bluelounge has undertaken design commissions for major corporations such as Airwalk, Microsoft, Panasonic, and Trina Turk. To experience Bluelounge's stunning portfolio of home and office products please visit the online catalog at: http://www.bluelounge.com/products/.
To join the Bluelounge social media community please follow the company on Twitter at http://twitter.com/bluelounge and Facebook at http://www.facebook.com/Bluelounge.
Note to reporters: high resolution images of Bluelounge's products are available for download at http://www.bluelounge.com/media/.
###