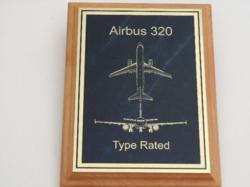 Clermont, FL (PRWEB) August 24, 2011
Airspeed Junkie has branched out from offering the typical variety of pilot supplies. What most aviators want to find is something that is unique and something not available anywhere else. The advantage comes from being professional pilots and asking hundreds of airline pilots, flight attendants, private pilots and corporations what they think is interesting. "Its a good idea to carry around a bunch of samples for input" says Ken Schulte, Product Specialist. This kind of market research always creates a great product and generates buzz in the aviation community.
Most Aviators like to show off their accomplishments in their "man cave" This is a place that is usually adorned with pictures or models of airplanes that they have flown. "I think of the man cave as my "it's cool to be me" room," says John, an airline pilot. "It would great to have a model of every plane that I have ever flown, but that would take forever to find and time is short."
Airspeed Junkie has solved that problem by creating a unique line of aviation achievement awards that look amazing on the wall of your favorite place. Unique engraved plaques of every aviation accomplishment as well as type rating plaques are offered. These are handsome plaques showing off all the aircraft that you may be type rated in. "Everyone is immediately impressed when they check out the office" says John. For more information on type rating signs, see this page.
These are not just limited to professional pilots either, There are a lot of private pilots that have their favorite planes on a plaque up on the wall. One Instructor has flown over 60 general aviation aircraft and has every one of them on a plaque. "It's an easy sell when a student comes into the office; it helps me sell my knowledge and sets me apart." Flight Instructors are seeing the value in giving their students an achievement award after completing a rating. After spending thousands of dollars on a rating, a plaque for the wall is a minimal investment and makes a great gift. You can find the complete line unique pilot supplies here.
Corporations that provide business jet services are finding giving a plaque to a maintenance customer is a great way to set them apart from other service providers. A real nice personal touch is adding the tail number of the customer's aircraft onto the plaque.
Airspeed Junkie also produces custom aviation shirts, bag tags, and the Pro Pac flight bag. New products are being introduced each week to keep it fresh. If you have ever found that buying a gift for a pilot was difficult, Airspeed Junkie has made it easier.
Ken Schulte, Director of Product Design
Airspeed Junkie
KNV Products
1730 E. Hwy 50, #18
Clermont, FL 34711
407-340-2020
ken(at)airspeedjunkie(dot)com
###