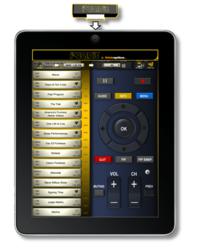 The iWavit TVAid App is effectively the old Sunday paper TV guide, re-invented with today's technology.
San Jose, CA / Madison, WI (PRWEB) August 23, 2011
The newest addition to the ThinkOptics' series of "Virtual Remote Control" apps, iWavit TVAid combines the functionality of a conventional remote control with the convenience of a built-in electronic program guide. Developed to work seamlessly with the iWavit hardware accessory, the TVAid App includes a Universal IR Learning Remote and comes preinstalled with an intuitive Setup Wizard for easy construction and customization.
"The iWavit TVAid App is effectively the old Sunday paper TV guide, re-invented with today's technology. Imagine being able to use your iPad, iPhone or iPod touch to scroll through a listing of all the TV shows that are on right now, and then automatically have your TV change to the show that you select," says John Sweetser, VP of Engineering at ThinkOptics.
To help successfully create the iWavit TVAid App, ThinkOptics partnered with BIM and Remotec. A veteran data-services provider for the broadcast and media industry, BIM employs their TitanTV™ data-service to deliver geographically accurate TV program and episodic information that is then rendered into a sleek and clickable listing guide. When a user finds a TV show they want to watch, the TVAid sends a command to the iWavit hardware attached to the iPad, iPhone or iPod touch and blasts a series of IR commands. The exact IR codes are taken from an extensive IR Library provided by Remotec. This ultimately allows the iWavit system to communicate and control any brand of TV or cable-box provider.
"We are very excited to be working with the ThinkOptics team to serve consumers with a comprehensive and flexible TV viewing enhancement aid" said Mick Rinehart, BIM SVP Products & Data Services. "The TVAid app bridges the gap between the traditional remote control and program guide for a truly interactive TV experience."
"Although Remotec has traditionally been involved with universal remote controls and IR code library databases, Mobile- and Cloud-based solutions are exciting new territories for us", says Esmond Ai, Technical Manager at Remotec. "This type of system architecture enables numerous possibilities and really serves to create a better user experience for interacting with technology around us."
ThinkOptics initially introduced the iWavit plug-in attachment at MacWorld in January 2011. Since then, the company has expanded their offerings to include over 30 free Apps that make use of the iWavit hardware accessory. These apps neatly complement ThinkOptics' flagship app, iWavit Tabula Rasa, which allows users to build their own virtual remote controls and to share them online with the rest of the world.
The iWavit TVAid App is available for free from the App Store on iPad, iPhone and iPod touch, or at http://www.itunes.com/appstore.
The iWavit hardware accessory is offered in Basic and Premium models and is available for purchase through http://www.iWavit.com. The iWavit hardware accessory has a $99.00 MSRP and is compatible with iPod touch (1st, 2nd, and 4th generation), iPhone 4, iPhone 3GS, iPhone 3G, iPhone, iPad 2 and iPad.
About ThinkOptics
ThinkOptics Inc., founded in 2004 and based in San Jose, California, is a leading edge technology company working to simplify user experiences in the increasingly complex Digital Living Room. ThinkOptics holds numerous patents on optical tracking technologies, and has created a family of embedded sensors for tracking the orientation and position of multiple objects in a room. ThinkOptics licenses its technology and also creates consumer electronic products. Their first product, the Wavit 3D Remote Control, was launched in January 2007 for controlling a PC from the sofa, and the "Made for iPhone" iWavit Accessory was launched in January 2011, which turns the iPod touch, iPhone and iPad into the Ultimate Remote Control. They currently have over 30 iPhone and iPad apps on the App Store.
About Broadcast Interactive Media
Broadcast Interactive Media (BIM) is the leading provider of revenue, content and technical solutions for local media and is a trusted resource for hundreds of broadcast and publisher clients. Core products are the BIM Web and Video CMS, YouNews social media platform, MediaStar suite, BIMLocal Ad Network, local sales initiatives such as Healthy Living and Green, STELA Compliance Tools and the full range of the TitanTV™ guide products, including data-services, program guides, mobile guides and TitanTV.com. Customers include ABC, Belo Television Group, Capitol Broadcasting, CBS Television, Fisher Communications, Fox Television, Gannett Broadcasting, Hearst-Argyle, NBC LIM and Scripps-Howard. BIM is based in Madison, WI with offices in New York City, Los Angeles, CA, Cedar Rapids, IA and Austin, TX.
About Remotec Technology, Ltd.
Remotec Technology Ltd., founded in 1988, is based in Hong Kong and is a global leader in custom design, engineering, and delivery of wireless input devices and technology. Over 15 years of experience with universal remote controls and wireless control devices has allowed Remotec to consistently provide quality products and services for customers around the globe. Remotec works with original equipment manufacturers, private label and retail markets around the world in order to offer a wide array of high-quality IR/RF remotes, accessories, and standard solutions for A/V equipment, media centers, and home automation systems.
###