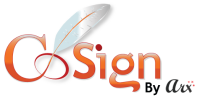 "The support for digital signing via mobile device is evidence that today's business takes place largely outside the office", said Gadi Aharoni, CEO, ARX. "It meets the need for business to move forward regardless of the signer's physical location".
San Francisco, CA (PRWEB) August 25, 2011
ARX (Algorithmic Research), the leading provider of digital signature solutions, has upgraded its CoSign with SharePoint solution to include support for digital signing of SharePoint documents via mobile devices.
CoSign digital signatures for SharePoint allows SharePoint users to seamlessly sign Microsoft® Office and PDF files, list items, records and documents centrally located on the SharePoint server via the SharePoint interface. Now, in addition to signing via laptop or desktop computer, users may also approve SharePoint documents on-the-go using any of the most popular mobile devices. These include the iPad and iPhone, and other popular smartphones, tablets and pads.
CoSign supports built-in SharePoint workflows, as well as third-party workflow solutions that have a SharePoint foundation including Nintex Workflow. By providing legally enforceable and globally acceptable digital signatures that offer proof of signer identity, intent, and content integrity, CoSign with SharePoint enables electronic SharePoint processes to remain paper-free through the approval stage. This secure, fast, and reliable elimination of paper from signature approval processes enables organizations to maximize their investment in SharePoint while further reducing costs and increasing efficiency.
"The support for digital signing capability via mobile device is very exciting," said Gadi Aharoni, CEO, ARX. "It's evident that today's business takes place largely outside of the office, and this capability meets the pressing need for business to continue moving forward regardless of the signer's physical location."
About ARX
ARX (Algorithmic Research) is a global provider of cost-efficient digital signature solutions for industries such as life sciences, healthcare, government, engineering, and energy. ARX's CoSign digital signature solution automates approvals affordably in a compliant manner, allowing organizations to go paperless, expedite business processes and save costs. CoSign is the only digital signature solution that is seamlessly integrated with Microsoft® SharePoint® and other popular DM/ECM solutions. CoSign signatures are globally verifiable by external partners without the need for proprietary-validation software. CoSign is also centrally managed through the organization's user directory for reliable control of signature privileges, and ease of use and administration. Learn more about the CoSign digital signature solution.
###