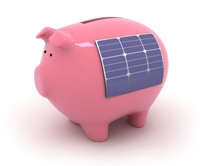 Getting a couple of quotes right now is free and easy. With the FIT possibly falling in April, why not see if you can afford it?
Saffron Walden, Essex (PRWEB UK) 24 August 2011
Across the UK, the solar panels industry took off in April 2010, when the Feed In Tariff (FIT) was first introduced as a government-backed scheme which means that solar panels pay themselves off over time as energy companies are made to buy excess solar power automatically feed back into the main grid. The team at TalkSolarPanels have noticed that there is an increasing rise in potential solar panel buyers wanting to know if they should buy now, and the potential changes in UK solar power policy.
Going, Going, Gone?
The Feed in Tariff has already fallen for larger commercial class solar power systems, with a recent cut of up to 75% for solar installations over 50kW, causing a massive rush in solar power farm applications before the deadline for these decreases is to be put into place. For example, Toyota's current 5 megawatt system would see subsidies slashed from 30.7p per kW generated to a paltry in comparison 8.5p.
The Current Situation
At present, solar panels installed are eligible for the Feed In Tariff at its current (and index-linked) rate for the entire 25 year period. This means that any solar panels currently installed or put into place before government announces any definite changes will receive the FIT. This is a good reason to get a few quotes, which is the service provided by TalkSolarPanels – three free quotes anywhere in the UK.
Residential May Be Next
The reasons for these decreases are not so much environmental, but economic. Indeed, the cause of much concern over a potential drop in the FIT for domestic solar panels is the resurgence in economic problems. There has been a recent dramatic sell off in shares as there has been speculation over the Eurozone debt crisis spreading from smaller countries in the bloc to larger economies such as Spain and Italy. Greece, Portugal and the Irish Republic have already received help so far, and Richard Hunter, head of UK equities at Hargreaves Landsdown Stockbrokers has stated that the FTSE 100 is down by 16% this year alone.
Do Your Research
Getting solar power information from TalkSolarPanels couldn't be any easier – just pop in your name, number and postcode, and one of our friendly team will give you a call back within minutes to discuss if solar power is right for you.
Similar Investments
We want what's best for you. There are other government grants and tariffs for different types of renewable energy, like our sister site, which provides quotes for ground heat pumps.
Save Money – Compare Companies
If you're after solar panels quotes, then TalkSolarPanels.co.uk can get you solar panels prices, for free. After a brief chat, and only if you want to go ahead with it, we'll get three solar panel suppliers to call you back, usually within an hour or two, to arrange quotes.
Assurance
At TalkSolarPanels, all the companies that we get quotes from are MCS accredited and credit-checked. We don't want to deal with unreliable companies, and nor do you. Since we can get you three free quotes anywhere in the UK, you get a great opportunity to get a feel for what different solar installers can offer you, in the knowledge that they'll give you competitive quotes because they know you're conducting a comparison.
For more information, on the Feed in Tariff, or to get solar panels prices, visit the TalkSolarPanels.co.uk website to get solar power!
###