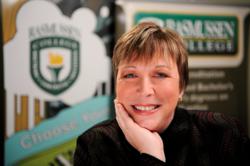 These students represent some of the best and brightest future leaders that Rasmussen College has to offer
Minneapolis, Minn. (PRWEB) August 24, 2011
Rasmussen College, a premier provider of career-focused higher education, is pleased to congratulate twelve of its top online students on successfully graduating from the Rasmussen College Leadership Academy.
The Leadership Academy at Rasmussen College consists of a group of hand-picked online degree seeking students. The Leadership Academy is reserved for students enrolled in Rasmussen College Online only, and students who are chosen for the academy learn the leadership skills necessary to be successful in their careers.
In order to be considered for selection, students must be with Rasmussen College for at least two full quarters and must have a G.P.A. of 3.25 or higher. Students must then apply for the academy, and a panel of Rasmussen College Online representatives makes the final selection. The group then meets every-other-week to learn from leadership experts and to hone the skills necessary for their future career success.
"These students represent some of the best and brightest future leaders that Rasmussen College has to offer," President of Rasmussen College Kristi Waite said. "We are proud of their commitment and dedication to the program, and we congratulate them on all of their future successes."
The following 12 students–ranging from a variety of degree programs—comprise the most recent graduates of the Leadership Academy:

Rhonda Green: Dothan, Ala.
Deb Shearer: Findlay, Ohio
Lauretta Callahan: Fishkill, N.Y.
Melissa McCook: Kalamazoo, Mich.
Christine Flood: Kenosha, Wis.
David Peterson: Oconomowoc, Wis.
George Burns III: Plano, Ill.
Linda Bodell: Rockford, Ill.
Diann Stover: Shamokin Dam, Pa.
Angela Fagerstrom: Tumwater, Wash.
Amy Henderson: Yuca Valley, Calif.
Cheryl Auchter: New River, Ariz.
To read this press release in its entirety, and others like it, visit http://www.rasmussen.edu/press-release/2011-08-23/twelve-students-graduate-leadership-academy/. For additional information about Rasmussen College Online, visit http://www.rasmussen.edu/locations/online-campus/.
ABOUT RASMUSSEN COLLEGE:
An innovator of higher education, Rasmussen College is a career-focused, private college that specializes in offering the most in-demand degree programs in a highly supportive, student-centered educational environment. Rasmussen College offers market-relevant programs from the certificate and diploma level through the associate's and bachelor's level online and across its 22 campuses in the Midwest and Florida to more than 15,000 students. By combining its expertise in career development with high academic standards and with unparalleled student support services, graduates of Rasmussen College leave with the most up-to-date knowledge, the skills that employers look for, and the tools to succeed in their chosen field. Since 1900, the primary focus at Rasmussen College has remained constant: student achievement is of the upmost importance, the employer who hires its students continues to be a valued partner, and Rasmussen College is dedicated to being a primary contributor to the growth and development of the communities it serves.
# # #