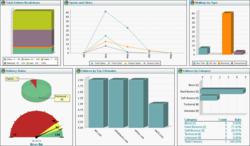 By integrating StrongMail On-Demand with Microsoft Dynamics CRM, Sage CRM and SalesLogix, Lexnet has addressed the needs of companies that can benefit from the StrongMail On-Demand solution.
Salem, MA (PRWEB) August 24, 2011
Email marketing service provider Net Atlantic, Inc. today announced its partnership with Lexnet Consulting Group, a leading system integrator and reseller of CRM business solutions, to launch the third in a series of integrations between its StrongMail On-Demand Edition and leading CRM solutions – this time for Microsoft Dynamics CRM, Sage CRM, and Sage SalesLogix.
"By integrating email with CRM data, email senders can identify their most influential and profitable customers and automate relevant marketing programs based on key events, web analytics data, purchase activity, or other relevant data attributes," said William Reich, President of Net Atlantic. "By integrating StrongMail On-Demand with Microsoft Dynamics CRM, Sage CRM and SalesLogix, Lexnet has addressed the needs of companies that can benefit from the StrongMail On-Demand solution."
Lexnet's CRM integration is two-directional, allowing email senders to target and send segmented and personalized email marketing campaigns using customer data stored in the CRM. This two-way integration enables StrongMail On-Demand to automatically write real-time mailing information and tracking results. Multiple queries can be built and saved for reuse. Queries can incorporate both CRM data and past email campaign click-through history.
"Lexnet is an ideal Net Atlantic partner, as we've seen a lot of demand from our CRM customers for a powerful, full-featured email marketing solution that we can easily integrate with their internal systems," said Reich. "StrongMail's proven on-demand platform puts us in an excellent position to reach new markets with an integrated marketing solution for improving customer relationships."
In addition to the leading CRM applications discussed above, StrongMail On-Demand Edition integrates with salesforce.com Connector and SAP CRM.
About Lexnet Consulting Group
Lexnet Consulting Group is a premier provider of CRM and email marketing solutions. The company is headquartered in San Francisco, California, with additional offices in Southern California and Seattle, WA as well as strategic alliances with other technology VARs across the country via Consilience Global Partners. The Lexnet team has completed hundreds of successful CRM and email marketing implementations for companies across the county--each with a primary focus of delivering maximum value and return on investment. For more information visit http://www.lexnetcg.com.
About StrongMail Systems, Inc.
Every day, StrongMail is empowering leading brands to engage and grow their customer base through email marketing and social media. From the world's largest enterprises to the hottest daily deal sites, StrongMail is helping smart marketers boost the performance of their programs with cutting-edge lifecycle marketing capabilities and the ability to deliver millions of highly personalized messages in minutes. Our products and services provide end-to-end solutions for such notable brands as Travelocity, Netflix, Macy's, McAfee, Viacom and T. Rowe Price. Learn more at http://www.strongmail.com.
About Net Atlantic
Net Atlantic, Inc. is an email marketing company that offers innovative technology and tools to drive sales for companies and organizations in a wide range of vertical industries. As an Email Service Provider (ESP), we help our clients, partners and affiliates to cost-effectively deploy email marketing solutions and improve ROI with email campaign deployment, email automation, CRM integration, and social media integration. To learn more about the Net Atlantic SaaS (software as a service) based solution, visit our website at http://www.netatlantic.com.
Copyright © 2011 Net Atlantic, Inc.
###