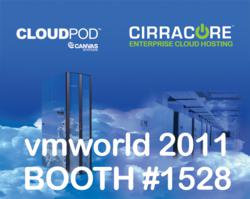 We will be performing live demonstrations of a private cloud using VMware and Canvas System's CloudPod to exhibit a private cloud in a rack
Atlanta, GA (PRWEB) August 25, 2011
Cirracore, a global provider of enterprise cloud hosting services, and Canvas Systems, a global leader in IT infrastructure solutions and services, announced today that the two companies will be partnering to exhibit Canvas Systems CloudPod(TM) Solutions that provide Infrastructure-as-a-Service for private clouds and Cirracore's private cloud hosting services at Equinix, at VMworld 2011 in Las Vegas.
"We will be performing live demonstrations of a private cloud using VMware and Canvas System's CloudPod to exhibit a private cloud in a rack. Cirracore has recently joined the VMware VSPP (VMware Service Provider Program) to offer VMware hosting services. Combined with Cirracore's enterprise-class data centers at Equinix facilities, the Cirracore/CloudPod combination is a compelling solution for enterprises considering cloud deployments either on-site or off-site in one of our data centers", stated Matthew Elkourie, CTO of Cirracore.
"Canvas Systems' CloudPod Solutions provide an painless method for enterprises to migrate to private clouds from physical infrastructures. CloudPod offers a complete hardware and software stack in a self-contained locking cabinet that can be deployed on-site or hosted with Cirracore", stated Dave Rollo, Business Development Manager Rental at Canvas Systems.
Visit the Cirracore / Canvas Systems at Booth # 1528 at VMworld 2011 to see an actual CloudPod in action on-site.
About Canvas Systems:
Founded in 1998, Canvas Systems is the leading global and independent supplier of IT Hardware and Support – providing the largest channel alternative for data center and hardware services. Based in Norcross, Georgia, Canvas also has regional headquarters in the United Kingdom and Netherlands. Canvas specializes in providing clients with faster and affordable green IT products and services including: Data Center Hardware, Third-Party Maintenance, Financing and Rentals, Infrastructure Services and Remarket and Recycle programs.
Canvas has an extensive $100 million inventory, offers same day shipment to over 70 countries and saves significant money for clients ranging from Fortune 500 companies to small businesses. Canvas Systems is part of the Platinum Equity Portfolio. For more information, call 1-877-CANVAS-9.
About Cirracore
Cirracore is a global provider of managed cloud, managed services, and high-density computing services for mission critical applications that allow enterprises to scale operations while reducing costs and IT infrastructure support. Cirracore is focused on providing virtualized dense solutions that reduce customer's required footprint, translating into direct savings for customers.
Cirracore has rapidly become one of the most respected high performance cloud hosting companies in the industry serving a global customer base. Cirracore has partnered with premier companies that are leaders in their respective industries to provide best in class service to our customers. Visit Cirracore to learn about cloud hosting at http://www.cirracore.com.
###