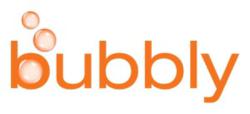 Tokyo (PRWEB) August 25, 2011
Singapore | Today, mobile voice blogging leader Bubble Motion is announcing a number of top-tier partnerships that will enhance its service throughout Japan. These include partnerships with the likes of Sony Music Network, Horipro as well as celebrity users such as soccer superstar and owner Yasuhiko Okudera. In May 2011, Bubble Motion also expanded its service in conjunction with SoftBank Mobile to bring the voice blogging phenomenon to over 26 million of SoftBank Mobile's subscribers throughout Japan.
Since launching Bubbly just one year ago, the service has taken Asia by storm. Used by hundreds of celebrities, entertainers, sports stars and musicians as an authentic way to keep their fans updated, Bubbly has catapulted to over 10 million users in India, Indonesia, Philippines, and now Japan. The service has delivered more than 300 million messages in the last year alone.
Bubbly, best described as a "voice-based Twitter", is a social messaging service where people share voice and text updates with friends, family, fans and followers. Voice bloggers record status updates, in their own voice, and their followers are notified to click and listen. Carriers like SoftBank Mobile and KDDI have embedded the service on their networks, meaning that Bubbly is handset-agnostic and does not require any special applications to operate, and works seamlessly across all of their subscribers.
Participating in the SoftBank Mobile launch is Sony Music Network who is using the service to connect artists with their Japanese fans. Celebrities will record their thoughts, opinions on current events, and generally share updates of their day-to-day lives.
"With the most tech-savvy population of any country, Bubbly and Japan are a great fit for each other," said Thomas Clayton, Bubble Motion President and CEO. "SoftBank Mobile, Sony Music Network, Horipro and our other corporate partners have recognized the Japanese peoples' affinity towards social media and early adoption of mobile phone technology, which has resulted in this exciting partnership."
日本語でのお問い合わせはコチラに support-ja(at)bubblemotion(dot)com
About Bubble Motion
Bubble Motion is pioneering social communication for mobile phones. Bubble Motion's Bubbly is a social messaging service where people share SMS and voice updates with friends, family, fans and followers. Bubbly is like 'Twitter with a voice' and brings social networking to mobile phones.
To learn more about Bubbly, visit http://www.bubblemotion.com/products-bubbly.html
###