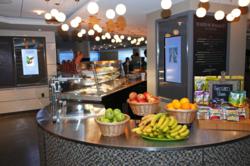 "When it came time to bring a new dining experience to Aquarium visitors, we took the opportunity not only to renovate the space, but also use our café as another avenue to help our visitors make thoughtful choices about the planet in their daily lives."
Baltimore, Maryland (PRWEB) August 30, 2011
Visitors to the National Aquarium can make even more of their experience thanks to the opening of the Harbor Market Kitchen, a newly renovated dining experience offering fresh, local and delicious fare that is in perfect harmony with the Aquarium's green business practices and conservation education mission. Using sustainable and local products including seasonal produce, artisanal cheeses, grass-fed beef, humanely raised chicken, sustainably-harvested seafood and shade-grown coffee, the Harbor Market Kitchen is an extension of a visit to the National Aquarium operated by Sodexo Leisure, premier food provider to cultural destinations around the world, for dining, catering, and special events.
The Aquarium's main café had seen the wear and tear of more than 1.4 million visitors per year since it opened in 2005. The newly renovated space offers an inviting atmosphere where guests can take a break from their Aquarium tour to enjoy delicious food while learning about earth-friendly food practices. The Harbor Market Kitchen and extension eateries throughout the Aquarium buildings are available to all Aquarium visitors during normal business hours as well as for catering for groups and special events in the evenings.
"When it came time to bring a new dining experience to Aquarium visitors, we took the opportunity not only to renovate the space, but also use our café as another avenue to help our visitors make thoughtful choices about the planet in their daily lives," said the National Aquarium's Senior Director of Visitor Experiences Bill Minarik. "The concept complements the sustainable business choices we make throughout Aquarium operations, and helps visitors do the same in their daily lives."
The menu at the Harbor Market Kitchen was modeled from local farmers markets and offers far more than seasonal fruits and vegetables; it offers wholesome, farm-to-table preparations showcasing that the food is farmed, not manufactured.
"By supporting local farming, Harbor Market Kitchen's menus are designed to feature the seasonal ingredients and celebrate the farmer – profiling the bounty that Baltimore has to offer in one of its most notable landmarks," says Sodexo Leisure's National Director of Culinary Development Chazz Alberti. "Harbor Market Kitchen pays tribute to the authentic and diversified culture of the neighborhoods of Baltimore, creating a comfortable ambiance, relaxed enough for families during the day, yet transforming itself in the evening into the perfect backdrop for celebrations and events."
Local purveyors include the family-owned Arnold Farms in Chestertown, MD, delivering cauliflower, corn, cantaloupes and tomatoes for the fresh market salad station and Toigo Orchards in Shippensburg, PA providing beefsteak and Heirloom tomatoes, apricots, plums, raspberries and peas produced in pesticide-free greenhouses. Hormone- and nitrite-free hotdogs, cage-free, hormone-free free chicken and grass-fed beef are also available at the Harbor Market Kitchen. Healthy alternatives such as sweet potato fries and all-natural hotdogs are available for those who prefer traditional favorites.
Recent menu favorites include:

The Chesapeake Farm Salad, with the season's first tender lettuces, local spring peas, butter radishes, potatoes, asparagus and grass fed flank steak tossed with a green onion vinaigrette,
Sustainably-harvested Blue Crab Chowder with smoked bacon, potatoes, tomatoes and sweet Chestertown corn,
A Reuben Sandwich fashioned with house-cured corned beef, sauerkraut, Thousand Island dressing and gruyere cheese, along with White Oak Pastures Beef Brisket BBQ.
In addition to changes in what is served, Harbor Kitchen Market renovations also include composting stations that return valuable nutrients back to the soil and reduce our impact on the earth. The Harbor Market Kitchen also utilizes recycled, compostable materials, and offers alternatives to non biodegradable waste whenever possible such as sustainably harvested bamboo plates and bowls along with compostable potato based fork, knives and spoons.
Finally, visitors will enjoy an upscale, relaxing dining experience with a choice of seating at high stools or traditional tables, set in a backdrop of ocean-themed colors.
About Sodexo
Sodexo's Leisure team is a premier provider to cultural destinations around the world, including supporting the missions of many cultural institutions in the U.S. including the Houston Zoo, the Museum of Science and Industry and the Shedd Aquarium in Chicago, the Children's Museum of Indianapolis, and Dallas Museum of Art.
The program at Harbor Market Kitchen supports several of the 14 commitments in Sodexo's Better Tomorrow Plan, the company's global roadmap to sustainability, including the commitments to promote varied and balanced food options and to develop and promote health and wellness solutions in the communities we serve.
About the National Aquarium
The National Aquarium is globally engaged in aquatic conservation from Chesapeake Bay to Costa Rica; a world-class entertainment attraction with engaging exhibits; committed to education with programs that connect children with the aquatic environment; a sought-after partner with alliances around the world; and the #1 tourist attraction in Maryland and unique in Washington, DC, with more than 16,000 animals in its living collections.
The National Aquarium Institute is a nationally recognized and respected conservation organization comprised of venues in Baltimore, Maryland and Washington, DC, the National Aquarium Foundation, the Center for Aquatic Life and Conservation, and the National Aquarium Conservation Center.
###